STEAK AND CHEESE CALZONES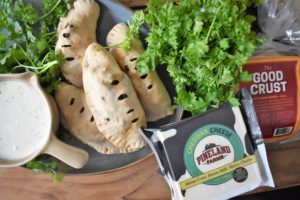 What is better than steak covered in melted cheese and wrapped in carbs? Nothing! Try out these delicious mini steak and cheese calzones that you can whip up in less than an hour! You can have one, two, or even three if you are hungry enough. This recipe makes a great lunch, dinner, or even a snack, and everyone at the table will leave satisfied. Using the best pizza dough around from The Good Crust, you honestly can't go wrong!
Yields: 6 Servings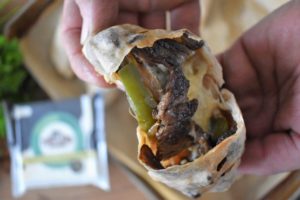 INGREDIENTS:
1-1/2lbs Grilling Beef Strips, sliced thin
1 cup Green Peppers, sliced
1 ½ cup Yellow Onions, sliced
1 cup Mushrooms, sliced
1 Tbsp Olive Oil
TT Salt & Pepper
8oz Pineland Farms Cheddar Cheese, shredded
2ea The Good Crust Pizza Dough
Creamy Horseradish Sauce:
½ cup Mayonnaise
1 Tbsp Seeded Mustard
2 Tbsp Horseradish
TT Salt & Pepper
INSTRUCTIONS:
Preheat oven to 450F
In a small mixing bowl combine the ingredients for the horseradish sauce and stir until well combined. Refrigerate until needed for service.
In a heavy bottomed sauté pan drizzled with olive oil, brown the beef strips
Toss in the veggies, continuing to cook until the veggies are slightly soft.
Stretch and work the dough and cut as many 4-inch circles as the dough allows.
Fill each with a ½ cup of beef filling. Fold in half (half-moon) press to seal the edges with a fork creating a football like shape. Cut a few vent holes before placing into the oven.
Bake for 12-15 minutes.
Serve immediately with creamy horseradish dipping sauce.
Enjoy!
Recipe by our chef, Emily McQuarrie!
PINELAND FARMS DAIRY COMPANY
MAINE COWS. MAINE MILK. MAINE CHEESE.
Find us in the Specialty Cheese Section!