Smoked Cheddar Fondue
Perfect for an at home date night, this Smoked Cheddar Fondue with grilled veggies and steak will make you feel like you're eating at a fancy restaurant.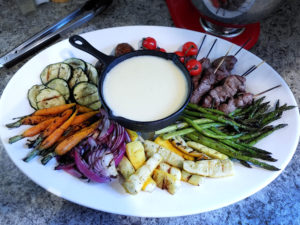 Ingredients
1 small red onion, sliced
2 zucchini, sliced
2 squash, sliced
1 bunch baby carrots, brushed or peeled
1 bunch asparagus, trimmed
1 pkg. cherry tomatoes
5-6 portobello mushroom caps
1 pkg. stir fry beef strips
2 garlic cloves, minced
¼ cup olive oil
TT sea salt
TT black pepper, freshly cracked
1 doz. 6″ bamboo skewers
Fondue Sauce
1 cup stock (chicken or beef)
1 garlic clove, minced
4 oz. Pineland Farms Smoked Cheddar Cheese, shredded
4 oz. Pineland Farms Cheddar Cheese, shredded
2 tbsp. flour
Instructions
Preheat grill to 400°F.
Season beef strips and place them on the wooden skewers. Set aside.
In a large mixing bowl add the red onion, zucchini, squash, carrots, asparagus, cherry tomatoes and portabellas. Coat the vegetables with garlic and oil. Season with salt and pepper.
Place veggies and beef skewers on the grill and cook to your preference.
Meanwhile in a small saucepan, bring the stock and garlic to a boil.
In a small mixing bowl add the shredded Pineland Farms Cheddar Cheeses and flour together, making sure to evenly distribute the ingredients.
Add the Pineland Farms Smoked Cheddar mix into the boiling stock and whisk until creamy and smooth.
Arrange your grilled vegetables and beef skewers on a platter and pour the smoked cheddar fondue in a cast iron dish for dipping.
Enjoy!
Recipe by Emily McQuarrie