ARUGULA SALAD WITH FIGS, FETA AND BLUEBERRIES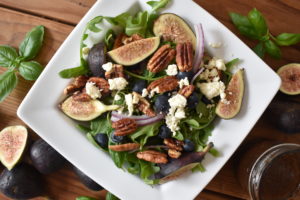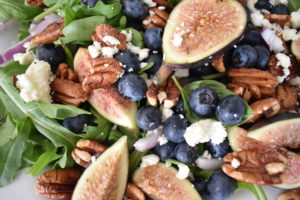 As summer gets closer, everyone is looking for new delicious and light meals. When Pineland Farms Feta gets paired with fresh figs and blueberries, they make an excellent salad topping. This arugula, fruit, and feta salad is the perfect well-rounded meal to give you the energy to enjoy the perfect summer days.
Yields: 6 Servings
INGREDIENTS:
¼ cup Red Onions, sliced
1 cup Blueberries
½ cup Pecans, toasted
5oz Baby Arugula Lettuce
5-7ea Figs, stems removed, quartered
½ cup Basil Leaves, torn
4oz Pineland Farms Feta cheese crumbles
Vanilla Balsamic Vinegarette:
¼ cup Avocado Oil
2 Tbsp Balsamic Vinegar
1 Tbsp Maple Syrup
1 Tbsp Shallot, minced
¼ tsp Ground Black Pepper
¼ tsp or ½ Vanilla bean, scraped
INSTRUCTIONS:
Toast the pecans in a dry skillet over medium heat, stirring occasionally until fragrant and lightly toasted, about 5 minutes. Set it aside.
Place the arugula lettuce, torn basil leaves, and sliced red onions in a large bowl.
In a small jar combine the ingredients for the Vinaigrette mixing well then tossing to coating the arugula mixture just before service.
Top with fresh figs, Pineland Farms Feta cheese crumbles and toasted pecans. Serve immediately.
Enjoy!
Recipe by our chef, Emily McQuarrie!
PINELAND FARMS DAIRY COMPANY
MAINE COWS. MAINE MILK. MAINE CHEESE.
Find us in the Specialty Cheese Section!