Apple Pie with Cheddar Crust
Apple pie perfect for fall with a twist! This delicious apple pie is perfect served warm with a scoop of vanilla ice cream on top.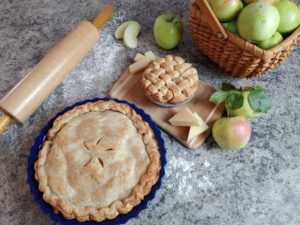 2 ½ cups All-Purpose Flour
2 Sticks Butter, salted and cold
4 oz. Pineland Farms Sharp Cheddar Cheese
2. For the crust. Add the flour to a large mixing bowl and add the butter. Cut the butter into the flour until it becomes pea sized.
3. Finely grate Pineland Farms Sharp Cheddar Cheese into the flour mixture. Lightly mix just enough to evenly incorporate.
4. Combine the ice water, salt, and sugar and pour into the flour mixture. Blend just enough for dough to form. *Do not over mix.
5. Cut the dough in half and place half in the refrigerator.
6. Roll the dough on a lightly floured surface. Roll in a circle large enough to line a 9-inch pie tin. Trim the excess dough and set aside. keep the excess trim in the refrigerator.
7. Peel and core the apples. Cut into thin wedges and place in a medium bowl. Coat all the apples with sugar. Add the flour, cinnamon, and vanilla. Place the filling into the pie crust.
8. Roll the remaining dough into a large circle just large enough to cover the entire pie. Place on top of the apples and trim away any excess dough.
9. Cut a few holes into the surface creating a vent for the steam to escape. Place in the oven.
10. Cook for approximately 1hr and 15 minutes or until the bubbles appear to be thickened. (You can also poke the apples with a toothpick to see if they are tender.)
Note: If the crust becomes dark you can cover the pie with foil.