CANNELLINI BEAN SALAD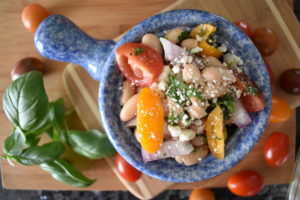 Are you looking for a delicious and refreshing side that is perfect for a hot summer day? This Cannellini bean salad is the perfect dish for just that! The bright cherry tomatoes, the flavor-packed feta, and the crunch from the red onion add a great flavor and texture that makes this dish such a light and delicious salad. Some of the perks of this salad are that it takes minutes to make, and the longer you let it marinate, the more flavorful it becomes.
Yields: 6 Servings
INGREDIENTS:
2 – 15oz cans Cannellini Beans, rinsed and drained
1 ½ cups Grape or Cherry Tomatoes, halved.
½ cup Red Onion, diced
¼ cup Parsley, rough chopped
4oz Pineland Farms Feta Cheese, crumbled
½ cup Olive Oil
¼ cup Red Wine Vinegar
TT Salt and Pepper
INSTRUCTIONS:
Open and pour the cannellini beans in a colander and rinse well under cold water.
Chop the red onions and parsley. Slice the tomatoes in half.
Add all the ingredients to a large mixing bowl and combine.
Season with salt and pepper. Top with Pineland Farms Crumbled Feta Cheese.
Note: This wonderful healthy salad can be made in advance and left to marinade, topping with cheese right before consumption
Enjoy!
Recipe by our chef, Emily McQuarrie!
PINELAND FARMS DAIRY COMPANY
MAINE COWS. MAINE MILK. MAINE CHEESE.
Find us in the Specialty Cheese Section!