Winter Cobb Salad
Yields: 4 Servings
Ingredients:
1Lbs 16/21ct Shrimp tail-on, peeled & deveined
8-10 slices Bacon, halved
2 cup Vegetable Oil
6ea Eggs, hard-boiled, sliced
1pkg -5oz Net Wt Baby Arugula Lettuce, washed & dried
2ea Avocados, sliced
6oz Blackberries, rinsed
8oz Pineland Farms Cheddar Curds or Scorpion Jack Cheese, ¼" – ½" cubes
1ea Red Onion, sliced thin
1ea Pink Lady Apple, sliced
½ cup Blue Cheese Dressing
Instructions:
Wrap the peeled, deveined shrimp with a portion of raw bacon and secure with a toothpick.
Bring a small pot of water to a boil and add the eggs. Cook for 10-12 minutes. Remove from heat and cool under cold running water. Crack and peel. Cut into slices or wedges. Set aside.
In a medium pan over medium-high heat cook the bacon wrapped shrimp in vegetable oil until bacon is crispy and shrimp are well done. About 3-5 minutes. Remove toothpicks and set aside.
Place the baby arugula in a large bowl. Add the fried shrimp to the center. Surround it with avocadoes, blackberries, sliced red onions, hardboiled eggs, crisp apple slices, and Pineland Farms Cheddar Curds.
Serve with your favorite blue cheese dressing.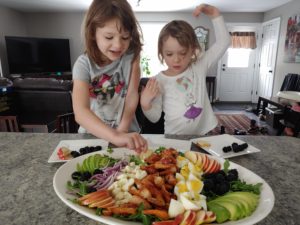 Recipe created by Emily McQuarrie