WILD MUSHROOM BRUSCHETTA
Blow your friends and family away with this wild mushroom bruschetta recipe. The combination of our crumbly and delicious Pineland Farm's Feta, the rich flavor from the sautéed mushrooms, and the crunchy addition of the baguette will create a dish full of flavor and comfort. Whether you are hosting a dinner party or you want to try something new at home, this stunning appetizer will surely leave everyone happy and full.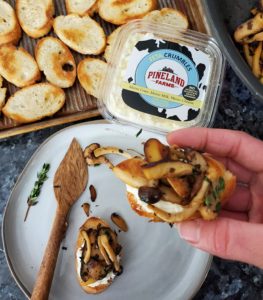 Yields: 6 Servings
INGREDIENTS:
1 crusty loaf or Baguette, sliced into ½ inch thick slices
2 Tbsp Olive Oil
¼ cup Cream Cheese, softened
¼ cup Pineland Farms Feta Cheese, crumbled
2 Tbsp Heavy Cream
2 Tbsp Butter
1lbs Wild Mushrooms (Shiitake, Cremini, oyster), sliced
1 tsp Thyme, freshly chopped
1 tsp Chives, freshly chopped
¼ cup Dry Sherry
TT Salt & Pepper
1 tsp Parsley (garnish)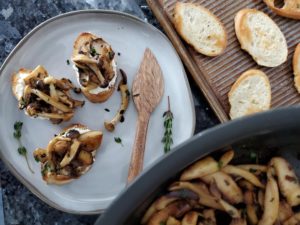 INSTRUCTIONS:
Preheat oven to 400F.
Toss the sliced baguette with olive oil, season with salt and pepper. Spread on a baking sheet and bake for 5 minutes or until golden brown. Turn crostini over and toast for an additional 3 minutes or until both sides are golden brown. Let cool, set aside.
Combine the cream cheese, Pineland Farms Feta cheese, and heavy Cream in a food processor until light and fluffy. Set aside.
Heat 2 tablespoons butter in a nonstick sauté pan over medium heat. Add the mushrooms and herbs, cook for 5 – 7 minutes, stirring frequently.
Deglaze with sherry, continue to cook until liquid has evaporated. Season with salt and pepper. Remove from heat.
Spread the feta mixture over the toast points. Top with sautéed mushrooms, and garnish with fresh parsley.
Enjoy!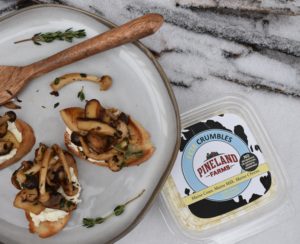 Recipe by our chef, Emily McQuarrie!
PINELAND FARMS DAIRY COMPANY
MAINE COWS. MAINE MILK. MAINE CHEESE.
Find us in the Specialty Cheese Section!