Tuna Noodle Casserole
Yields 6 Servings

Ingredients
6 oz. egg noodles, cooked
1 cup frozen peas
2 cans tuna, drained (5 oz. each)
1-10.5 oz. can cream of celery soup
1 ½ cups Pineland Farms Monterey Jack Cheese, shredded & divided (1 ¼ cups and ¼ cup)
½ tsp. celery salt
¼ tsp. pepper
2 tbsp. parsley, chopped (plus more for garnish, if desired)
½ cup potato chips, crushed
Instructions
Preheat the oven to 350ºF.
In a large bowl, mix together the cooked egg noodles, frozen peas, tuna, celery soup, 1 ¼ cups Pineland Farms Monterey Jack Cheese, celery salt, pepper, and parsley.
Place the tuna mixture in a 2 qt. baking dish.
Bake for 20 minutes until hot and bubbly.
After 20 minutes, remove the casserole from the oven and top with the remaining ¼ cup of Pineland Farms Monterey Jack Cheese and crushed potato chips. Return to the oven and bake another 5-10 minutes, until chips have started to brown and the cheese is melted.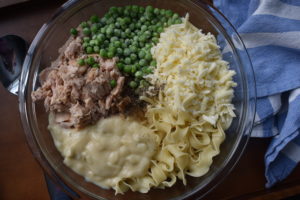 Recipe created by Emily McQuarrie