THE TWISTED RUBEN
Are you ready to add a fun twist to your meal? Our Twisted Ruben Recipe is a delightful way to enjoy two of the best things, Rubens, of course, soft pretzels. This dish is in honor of St. Patrick's Day, and what better way to celebrate a holiday than with delicious cheesy food? Even though this dish looks fun and different, it is actually pretty easy to assemble!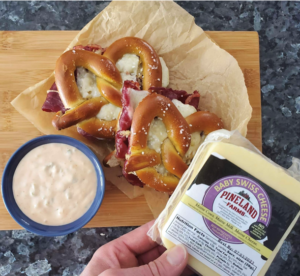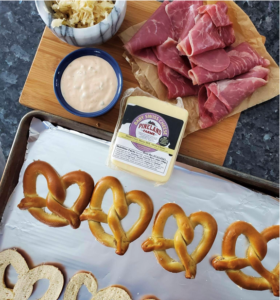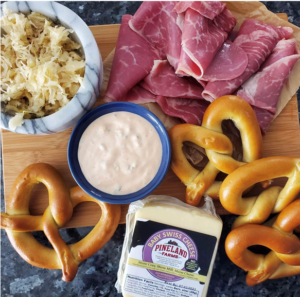 Yields: 2 Servings
INGREDIENTS:
4 large soft Pretzels
½ cup Sauerkraut, thoroughly drained
1 Tbsp Butter, plus more for brushing
8 -12 slices Corned beef
4oz Pineland Farms Swiss Cheese, sliced
1 tsp Kosher or Pretzel Salt, if needed
Dressing:
½ cup Mayonnaise
2 Tbsp Ketchup
3 Tbsp Dill Pickles, chopped
1 Tbsp Pickle Juice
¼ tsp Granulated Sugar
INSTRUCTIONS:
Preheat oven to 350F and line a sheet pan with foil.
Cut the pretzels in half with a serrated knife, separating the tops from the bottoms, transfer the halves to the foil lined pan.
Heat the corned beef in a sauté pan with ¼ cup water. Cook until the water has evaporated, and the corned beef begins to brown.
Remove from heat and arrange evenly on one side of the pretzel (2-3 slices per sandwich).
Using the same pan, melt the butter, toss in the sauerkraut, cook for 1 minute.
Transfer the sauerkraut on top of the corn beef pretzels and evenly distribute over the 2 sandwiches.
Place the slices of Pineland Farms Baby Swiss Cheese on top of the sauerkraut and cover with the top pretzel.
Brush with melted butter and sprinkle with kosher or pretzel salt.
Bake for 10 minutes. press with a grill weight halfway through the cooking process.
Meanwhile, combine all the ingredients for the dressing in a small bowl. Whisk until evenly incorporated.
Transfer the sauce into small ramekins. Remove the Rubens from the oven and enjoy.
Enjoy!
Recipe by our chef, Emily McQuarrie!
PINELAND FARMS DAIRY COMPANY
MAINE COWS. MAINE MILK. MAINE CHEESE.
Find us in the Specialty Cheese Section!