THE NORTHERN BITE: POTATO AND SAUSAGE GOURMET PIZZA
If you are a Mainer, you have probably enjoyed potato pizza before!  If you have not, you are in for a real treat!  There is something so satisfying about the combination of potato on pizza, especially paired with sausage, onion, and a great garlic olive oil!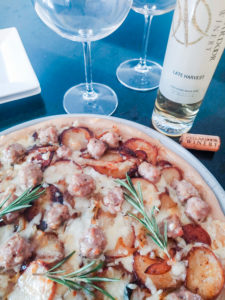 Yields: 3-4 servings
INGREDIENTS:
1-16oz. The Good Crust – 100% Maine Grains Pizza Dough
7oz. Pineland Farms Smoked Cheddar, crumbled or shredded
3 small Red Bliss Potatoes, sliced 1/8" thick
4oz A Wee Bit Farms Sweet Sausage, casings removed, rolled into ½" balls
3 Tbsp Kate's Sea Salted Butter
1-1/2 cup Vidalia Onion, sliced thin
2 tsp Rosemary, freshly chopped (optional)
TT Salt & Pepper
INSTRUCTIONS:
Preheat oven to 475F.
After stretching "The Good Crust" to your desired size, place the dough on a pizza stone.
In a heavy bottomed sauté pan over medium low heat, melt the butter, add the onions and red bliss potatoes, continue to cook until they become soft and golden in color. Season with salt and pepper.
Drizzle the Fiore garlic olive oil evenly over the dough. Evenly distribute the following in order: ¾ of the Pineland Farms Smoked Cheddar Cheese, the caramelized onion and red bliss potato mixture, the remaining Pineland Farms Smoked Cheddar, A Wee Bit Farm's sweet sausage.
Bake for 10 – 12 minutes.
Remove from oven and slice for service.
Garnish with freshly chopped rosemary, if desired.
For sweet and savory flavor profile, pair with CELLARDOOR Late Harvest -2020 Maine White Wine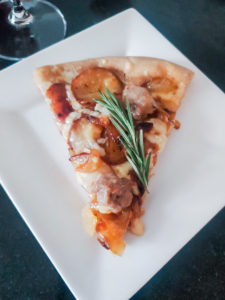 Recipe by our very own chef, Emily McQuarrie!
Pineland Farms Dairy Company
Maine Cows.
Maine Milk.
Maine Cheese. ⠀⠀⠀⠀
Find us in the Specialty Cheese Section!