The Blue Heron – Blueberry and Feta Gourmet Pizza
Who doesn't love a fresh take on pizza for the summer?!  You'll love how we've perfectly paired fresh Maine blueberries with our Feta cheese!  And to top it off, a drizzle of wildflower honey – does it get any better?
We're thankful to partner with The Good Crust to make this recipe come alive with 100% Maine Grains used in their pizza dough.
It's Maine on a pizza plate!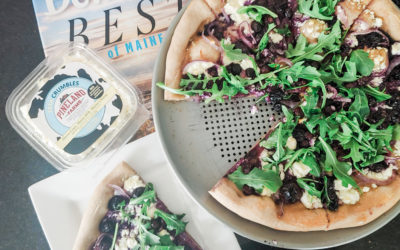 Yields: 3-4 servings
INGREDIENTS:
1-16oz. The Good Crust pizza dough – handmade frozen dough from 100% fresh stone-milled Maine grains
¼ cup Red Onion, sliced
½ cup Maine Blueberries, Fresh
1/2 8oz. Pineland Farms Feta Block, fork crumbled
½ cup Arugula Lettuce, washed & dried
2 Tbsp Bee Whisperer Wildflower Honey (Optional)
INSTRUCTIONS:
Preheat oven to 475F.
After stretching "The Good Crust" to the desired size, place dough on a pizza stone.
Evenly distribute the red onions, Pineland Farms Crumbled Feta Cheese, and fresh blueberries over the crust.
Bake for 10 – 12 minutes.
Remove the cooked pizza from the oven.
Just before serving, place the freshly torn arugula over the top. Drizzle with Bee Whisperer Wildflower Honey if desired.  Slice for service and ENJOY!!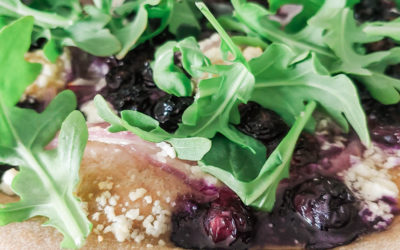 Recipe by our very own chef, Emily McQuarrie!
Pineland Farms Dairy Company
Maine Cows.
Maine Milk.
Maine Cheese.
Find us in the Specialty Cheese Section!