Summer Chicken Quesadillas
These Summer Chicken Quesadillas made with Pineland Farms Pepper Jack Cheese might have a bit of a kick to them, but the fresh Strawberry Mango Salsa on the side balances it out for the perfect summertime meal.
Ingredients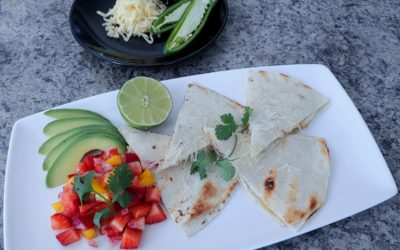 2 ea. chicken breasts, grilled, sliced thin
7 oz. Pineland Farms Pepper Jack Cheese, grated
6 ea. flour tortillas
1 small red onion: ½ sliced thin, ½ finely diced
1 cup strawberries, ¼" diced
1 ea. mango, ¼" diced
1 tbsp. cilantro leaves
1 tbsp. lime juice, freshly squeezed
1 ea. jalapeño, finely diced *Optional
Instructions
Preheat oven to 350ºF.
Place three tortillas on a sheet pan, evenly distribute Pineland Farms Pepper Jack, grilled chicken, ½ sliced red onion and finely diced jalapenos. Cover each open-faced quesadilla with a flour tortilla.
Bake until golden brown and crispy. Place on a cutting board and cut into 6-8 pieces.
In a small bowl, mix together ½ finely diced red onion, strawberries, mango, cilantro and freshly squeezed lime juice.
Enjoy!
Recipe by Emily McQuarrie