STUFFED FLANK STEAK
Summer is almost here, ready for something new.  The stuffing in this flank steak recipe combines flavors with our Reserve Cheddar to give a tangy and robust taste.  The red peppers, yellow peppers and red onion add some bright colors and a crispy crunch.  Family dinner, or entertaining with friends, you can't go wrong!
Yields: 4-6 Servings
INGREDIENTS:
2 lbs. Flank Steak, butterflied
1/4 cup Olive Oil
4 cloves Garlic, minced
1 Tbsp Cilantro, rough chopped
1/4 cup Parsley, rough chopped
1/2 tsp Salt
1/2 tsp Pepper, freshly ground
Pinch Red Pepper Flakes
1/2 cup Pineland Farms Reserve Cheddar, shredded
4 ea Eggs, hard boiled, quartered
1/2 ea Red Pepper, julienne
1/2 ea Yellow Pepper, julienne
1/2 ea Red Onion, julienne
As needed toothpicks and butchering twine
INSTRUCTIONS:
Preheat portable grill to 400F
Using sharp knife, butterfly the flank steak as you would open a book.  If you want to make the meat thinner, you can pound witha mallet to flatten and even out the thickness
In a small bowl, mix together the olive oil, cilantro, parsley, garlic, salt, black pepper and red pepper flakes
Spread the cilantro and parsley mixture evenly over the flank steak. Evenly sprinkle with Pineland Farms Reserve Cheddar Cheese.  Arrange the quartered eggs in three rows across the flank in different intervals. Repeat with the julienne peppers and red onions
Carefully roll the meat (across the grain) tightly over the filling, jelly roll style.  Tie with butchers' twine to hold together. Season the outside generously with salt and pepper
Place the roll on the grill, evenly grill on all sides, about 20 minutes in total
Let the flank steak rest for 15 minutes before slicing for service
ENJOY!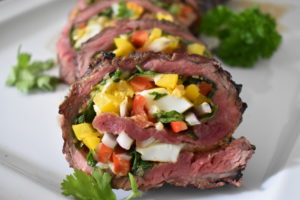 Recipe by our chef, Emily McQuarrie!
PINELAND FARMS DAIRY COMPANY
MAINE COWS. MAINE MILK. MAINE CHEESE.
Find us in the Specialty Cheese Section!