Strawberry Bruschetta with Feta
A fruity and savory summer take on an old Italian favorite!  The pairing of strawberry with some whipped feta will have you staying "bellisimo"!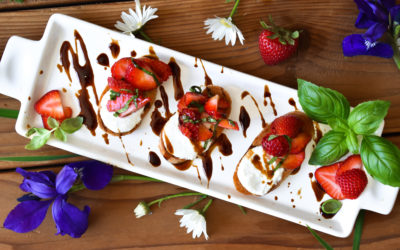 Yields: 12 servings- 2ea
INGREDIENTS:
3oz Pineland Farms Feta Cheese
5.3oz container plain Greek Yogurt
TT White Pepper
1 loaf Baguette or Sourdough
2 Tbsp Olive Oil
TT Salt & Pepper
12oz Strawberries, sliced
2 Tbsp fresh Basil, chopped
¼ cup Balsamic Glaze
Note:  TT = "To Taste"
INSTRUCTIONS:
Preheat oven to 350F.
In a food processor combine Pineland Farms Feta Cheese and the plain Greek yogurt.  Pulse and process until smooth. Season with white pepper. Set aside.
Slice the baguette or sourdough into ¼" slices. Drizzle with olive oil, season with salt and pepper. Bake until golden brown and crispy. Let cool.
In a small bowl combine the sliced strawberries and freshly chopped basil. Mix until basil is evenly incorporated.
Spread 2 tablespoons of whipped feta over the crispy baguette, divide strawberry basil over the top, and finish with a drizzle of balsamic glaze.
Enjoy!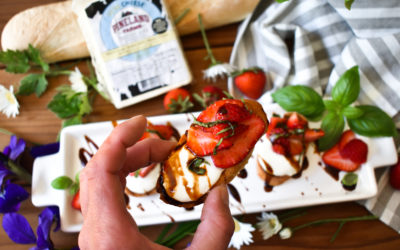 Recipe by our very own chef, Emily McQuarrie!
Pineland Farms Dairy Company
Maine Cows.
Maine Milk.
Maine Cheese.
Find us in the Specialty Cheese Section!