STEAK AND CHEESE POUTINE
Did you know that October 15th is National Cheese Curd Day? We were so excited that the NH PoutineFest would be held on October 15th that we signed up to be a sponsor and provide our Cheese Curds to all the restaurants competing in the event. Chef Emily won't be at the NH PoutineFest, but she wanted to share one of her Poutine recipes.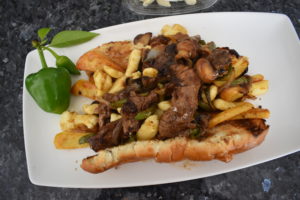 Yields: 2 Servings   
INGREDIENTS:    
8 oz. Frozen French Fries, steak cut 
2 ea. Sub Rolls, toasted
1 lbs. steak tips, cubes, or strips 
½ cup Green Pepper, sliced 
½ cup Onion, sliced
½ cup Baby Portabella Mushrooms, sliced
8 oz. Pineland Farms Cheddar Cheese Curds, room temperature 
1 Tbsp Butter
1 Tbsp All-purpose Flour
1 cup Beef Stock  T
T Salt & Pepper
1 Tbsp Parsley, freshly chopped (optional)  
*note: TT means "To Taste"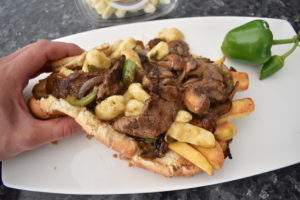 INSTRUCTIONS:  
Preheat your home fryer to 350F.  
Swirl the olive oil in a hot sauté pan coating the bottom, add the beef strips and veggies. Cook until onions, peppers, and mushrooms are soft. Remove from pan, set aside.  
Return the pan to heat, create a roux by melting the butter and mixing in the flour.  
Add the beef stock while whisking vigorously.  
Season with salt and pepper.  
Thin with more stock to achieve your desired thickness.  
Return beef and veggies to the gravy.  
Cook a handful of steak cut fries for approximately 3- 5 minutes or until golden brown and crispy.  
Place the fries on a plate lined with paper towels to remove excess grease, season with salt.  
On a toasted roll add a mound of hot fries, sprinkle with Pineland Farms Cheddar Curds.  
Pour the steak tips, veggies, and gravy over the top.  
Garnish with freshly chopped parsley if desired. 
Enjoy!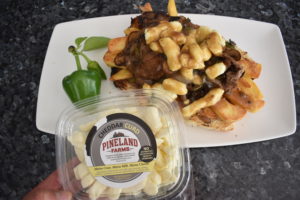 Recipe by our chef, Emily McQuarrie!   
Pineland Farms Dairy Company 
Maine Cows. Maine Milk. Maine Cheese. ⠀⠀ 
Find us in the Specialty Cheese Section!