SPANAKOPITA GALETTE
This buttery and decadent Greek dish is the perfect way to impress a crowd while keeping things easy and tasteful in the kitchen. Our Pineland Farms Feta Cheese pairs perfectly with the sauteed spinach and garlic, giving this dish a rich and creamy flavor. Then, to top it off, it's all wrapped in a flakey and buttery crust. What more can you ask for? Give this delicious and rustic Greek pie a try, and we can almost guarantee that you'll be going back for more.
Yields: 4 Servings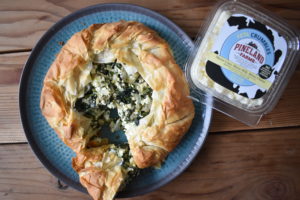 INGREDIENTS:
16oz Package Phyllo Dough (use ½ Pkg)
1 Tbsp Olive Oil
½ cup Onion, diced
10oz Frozen Spinach, thawed & drained
1ea Garlic Clove, minced
4oz Pineland Farms Feta Cheese, crumbled
½ cup Cottage Cheese
1 tsp *Greek Seasoning
¼ tsp Salt
¼ cup Butter, melted
INSTRUCTIONS:
Preheat oven to 400F. Line a baking sheet with parchment paper. Set aside
Heat olive oil in a large skillet. Add the onions and cook until translucent. Add the spinach, cook until thoroughly heated. Remove from heat and transfer to a mixing bowl. Add the garlic, cottage cheese, feta, salt and seasoning. Mix well
To assemble, lay 2 phyllo sheets vertically on the lined baking sheet. Brush with melted butter. Take 2 more sheets and continue to repeat by arranging in a clockwise fashion, buttering each pair of phyllo dough as you go.
When all the sheets have been used, scoop the spinach mixture into the center and spread into a circle. Carefully fold the phyllo dough over the edges of the spinach mixture allowing a majority of the center to be visible.
Butter the edges and bake for 15-20 minutes until edges are golden and center is set.
*Greek Seasoning – Equal parts oregano, basil, dill, granulated garlic, onion power, and black pepper.
Enjoy!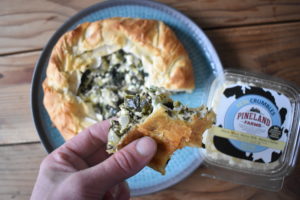 Recipe by our chef, Emily McQuarrie!
PINELAND FARMS DAIRY COMPANY
MAINE COWS. MAINE MILK. MAINE CHEESE.
Find us in the Specialty Cheese Section!