SOFT TACOS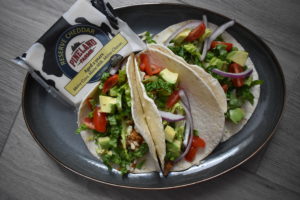 Who said you should only have tacos on Tuesdays? Not us! This simple recipe will make any dinner night fun, interactive, and delicious. It's a fast and easy meal that anyone can whip up, and you should enjoy it any day of the week. We could not blame you if you had it on multiple days of the week if we are being honest. Give it a try and see how delicious taco night can become with our Pineland Farms cheese.
Download Recipe HERE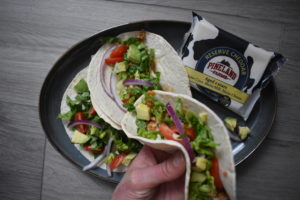 Yields: 4-6 servings
INGREDIENTS:
1lbs Ground Turkey
As needed Olive Oil
2 Tbsp Taco seasoning
1pkg Mini Flour tortillas
1 head Romaine Lettuce, shredded
½ cup Roma Tomatoes, diced
½ cup Red Onion, diced
1ea Avocado, diced
8oz Pineland Farms Reserve Cheddar Cheese, shredded
8oz Sour Cream (optional)
2 – 4 tsp Franks Wing Sauce
INSTRUCTIONS:
Swirl olive oil in a hot skillet over medium high heat, add ground turkey, brown, and cook thoroughly.
Drain excess fat. Add ¼ cup water and taco seasoning. Cook another 2 – 3 minutes.
Chop and shred desired toppings and place in bowls.
Heat the flour tortillas on a clean plan over medium heat for a few seconds until warm to the touch.
Add your desired amount of seasoned taco meat to the tortillas.
Top with Pineland Farms Reserve Cheddar, veggies, wing sauce and a dollop of sour cream if desired.
Enjoy!
Recipe by our chef, Emily McQuarrie!
PINELAND FARMS DAIRY COMPANY
MAINE COWS. MAINE MILK. MAINE CHEESE.
Find us in the Specialty Cheese Section!