Smoked Cheddar and Apple Stuffed Pork Chops
Yields 4 servings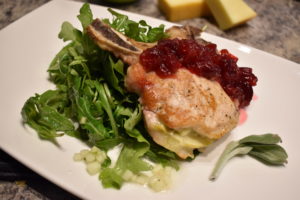 Ingredients
4 ea. thick cut bone-in pork chops
TT salt & pepper
3 tbsp. all-purpose flour
2 tbsp. butter
½ Granny Smith apple, cored, sliced thin
4 oz. Pineland Farms Smoked Cheddar Cheese, sliced thin
1 bag arugula lettuce, rinsed & dried
Vinaigrette
½ cup olive oil
¼ cup apple cider vinegar
3 tbsp. Granny Smith apple, finely diced
1 tbsp. shallots, finely diced
TT salt & pepper
Instructions
Preheat oven to 400ºF.
Cut deep pockets into the pork chops. Season with salt and pepper before lightly coating with all-purpose flour.
In a heavy-bottomed, oven safe skillet over medium-high heat, melt the butter. Sear the pork chop until golden brown, about 3 minutes per side.
Remove the pork chop to a plate and stuff with apples and Pineland Farms Smoked Cheddar Cheese. Return the chops to the skillet and move to the oven. Cook for 15 minutes or until the internal temperature reaches 165ºF, flipping the pork chops halfway through the cook time.
Meanwhile, prepare the vinaigrette by whisking together the olive oil, apple cider vinegar, diced apples, and shallots. Season with salt and pepper.
In a small bowl, add a handful of arugula lettuce and drizzle with the vinaigrette. Toss to coat, mound the dressed greens onto a serving dish and plate the pork chops. Garnish with fresh cranberry sauce and your favorite herbs.
Recipe by Emily McQuarrie