SHEET-PAN BAKED FETA
If you like Feta, you will love this recipe. This warm and comforting dish mixes roasted veggies with Orzo and creamy cheese, making it a great healthy comfort food to warm you up on a cold day. Packed with both flavor and nutrients there's nothing this dish leaves behind. Featuring Pineland Farms Dairy Feta Cheese, we can assure you that this dish will be a crowd pleaser, and did we mention how fast and easy it is to make?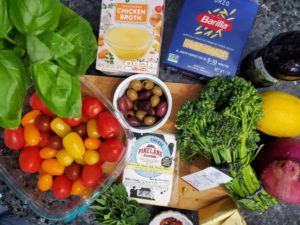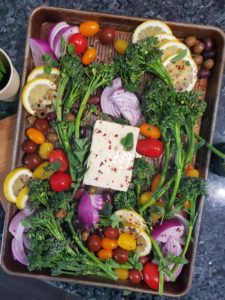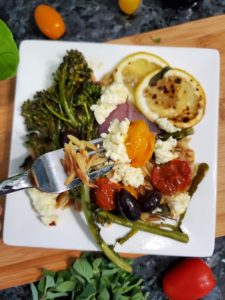 Yields: 6 Servings
INGREDIENTS:
1 bn Broccolini, stem trimmed, quartered
1 pt Grape Tomatoes
1 pt Yellow Grape Tomatoes
1 lg Red Onion, sliced into wedges
½  cup Kalamata Olives, pitted
8oz Pineland Farms Feta Cheese Bar
3 Tbsp Olive Oil
1 tsp Red Pepper Flakes
TT Salt & Pepper
1ea Lemon, ½ cut into wheels- ½ cut into wedges for garnish
¼  cup Basil, Oregano and Parsley, roughly chopped for garnish
1 cup Orzo Pasta
1 Tbsp Butter
2 Cups Chicken Broth
INSTRUCTIONS:
Preheat oven to 400F.
On a sheet pan combine the broccolini, tomatoes, onion, lemon slices, kalamata olives with olive oil. Add the red pepper flakes, season with salt and pepper. Toss to evenly coat.
Nestle Pineland Farms Feta bar into the vegetables. (Feel free to cut the feta into thirds and arrange in a few places on the sheet pan.)
Roast the vegetables in the oven for 15 – 20 minutes, stirring halfway through but leaving the feta in place. Continue to cook until the broccolini tips are charred, the stems are easily pierced with a fork and the tomatoes are blistered.
Meanwhile, in a skillet over medium-low heat, melt the butter. Then add the uncooked Orzo, mixing to coat the pasta in butter. Stir continuously until the pasta is golden brown, about 4 minutes.
Whisk in the chicken broth, bring to a low boil. Then reduce the heat to low, cover and let simmer until all the liquid is absorbed, about 15 minutes. set aside
Serve the baked feta and vegetables over the fork fluffed Orzo. Drizzle with the remaining lemon wedges and top with freshly chopped herbs.
Enjoy!
Recipe by our chef, Emily McQuarrie!
PINELAND FARMS DAIRY COMPANY
MAINE COWS. MAINE MILK. MAINE CHEESE.
Find us in the Specialty Cheese Section!