SAVORY STUFFED PUMPKINS
Mini pumpkins are the perfect vessel for this savory stuffing. You can serve these stuffed mini pumpkins with your Thanksgiving or Christmas dinner or add them to a special dinner party menu.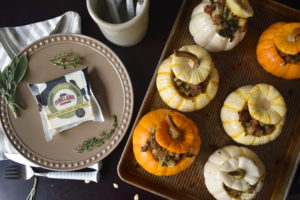 Yields: 6 Servings 
  INGREDIENTS:    
6 ea Mini Pumpkins, seeded
3 Tbsp Olive Oil, divided
1 lb Sweet Sausage
½ cup Celery, diced
1 cup Onion, diced
2 Tbsp Shallots, minced
2 cloves Garlic, minced
1 cup Swiss Chard, chopped
¼ cup White Wine
1 cup Chicken Stock
2 tsp Dijon Mustard
1 tsp Sage
1 tsp Thyme
TT Salt & Pepper
1 ½ cup Crusty Bread, cubed
1 ½ cup Pineland Farms Sharp Cheddar Cheese, Shredded
¼ cup Parmesan Cheese 
 *note: TT means "To Taste"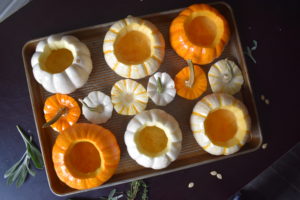 INSTRUCTIONS:  
Preheat oven to 350F.  
Wash and cut the tops off the Squash, scoop to remove seeds. Drizzle with olive oil and season with salt and pepper.  
Place squash and tops on a sheet pan and place into the oven, cook for 20 minutes or until they begin to soften. Remove from heat and set aside. 
Meanwhile, in a saucepan seasoned with olive oil over medium high heat, brown the sausage, drain the fat, toss in the celery, onion, and shallot.  
When the onions begin to turn translucent add the Swiss chard and garlic, stir until fragrant.  
Deglaze with white wine, add the chicken stock, Dijon mustard and spices, season with salt and pepper.  
Remove from heat and stir in the crusty bread. 
Let the mixture cool for about 15 few minutes then stir in the Parmesan cheese and Pineland Farms Sharp Cheddar Cheese.  
Begin stuffing each pumpkin with ½ – 1 cup of filling, then place in a greased 9 X 13 Baking dish or sheet pan, arrange the tops to create a vent.  
Return to the oven for another 20 minutes. 
 Enjoy!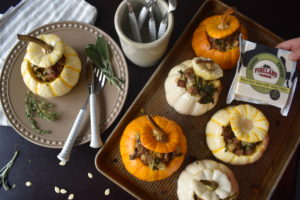 Recipe by our chef, Emily McQuarrie!
PINELAND FARMS DAIRY COMPANY
MAINE COWS. MAINE MILK. MAINE CHEESE.
Find us in the Specialty Cheese Section!