Roasted Vegetable and Feta Couscous
This colorful and veggie packed Couscous is the perfect side to any meal. Add your favorite veggies and herbs to it to make it your own.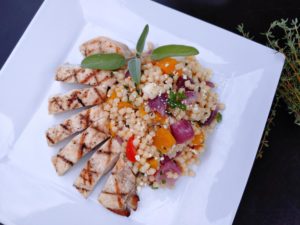 1 small Butternut Squash, peeled and 1/2" cubed
1 Yellow Pepper, 1/2" cubed
1 small Red Onion, 1/2" cubed
(2) 4oz Pineland Farms Crumbled Feta cups
2. Toss the peppers, onions and butternut squash in olive oil and season with salt and pepper. Arrange the vegetable on a sheet pan and bake for 25-30 minutes.
3. In a small saucepan bring the chicken stock to a boil. Add the couscous and cook for 8 minutes until tender. Fluff with a fork.
4. Combine the roasted vegetables, couscous, Pineland Farms Crumbled Feta and fresh herbs. Drizzle with the remaining olive oil and serve warm.
Note: Fresh herb consisted of sage, thyme, chives and parsley.