Roasted Beet and Carrot Salad with Feta
Yields 6 servings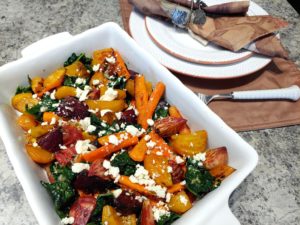 Ingredients
3 ea. golden beets with tops
3 ea. red beets with tops
6 ea. carrots, peeled, halved lengthwise
2 tbsp. olive oil
TT sea salt
4 oz. Pineland Farms Feta Crumbles
Vinaigrette
1 tbsp. honey
1 ea. garlic clove, minced
2 tbsp. olive oil
2 tbsp. apple cider vinegar or balsamic vinegar
1 ea. rosemary, finely chopped
TT salt & pepper
Instructions
Preheat oven to 400ºF.
Cut off the tops from the beets and set aside. Peel, halve, and slice the beets. Keep the red beets separate from the other vegetables if you want to avoid color transfers. Toss the beets and carrots in olive oil and salt.
Spread one layer of vegetables on a sheet pan. Roast in the oven for 30 minutes or until tender and browned.
Combine the vinaigrette ingredients in a bowl and whisk until combined.
Just before the vegetables are finished roasting, sauté the beet greens in olive oil just until wilted. Transfer to a serving platter and top with the roasted vegetables. Drizzle with vinaigrette and sprinkle with Pineland Farms Feta Crumbles.
Note: If you cannot find beets with tops, you can substitute with kale.
Recipe by Emily McQuarrie