ROAST BEEF AND SMOKED CHEDDAR GRILLED CHEESE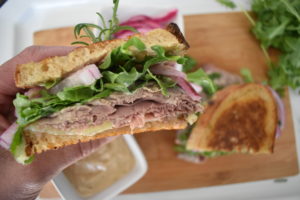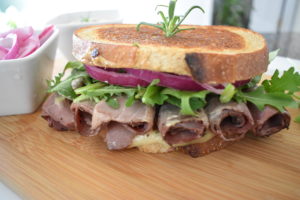 Though this sandwich may look like an everyday, run-of-the-mill roast beef sandwich, nothing about the flavor profile is. From, the homemade aioli to the hand-pickled red onions, this sandwich bursts with unique and punchy flavors. The smoky notes from Pineland Farms Smoked cheddar cheese round it out, complimenting the roast beef and the fresh toppings. You will want to go ahead and give this elevated roast beef grilled cheese a try!
Yields: 2 Servings
INGREDIENTS:
4 slices Sourdough Bread
2 Tbsp Butter, softened
4 Tbsp Steakhouse Aioli
1lbs Roast Beef, sliced thin
4oz Pineland Farms Smoked Cheddar, sliced
1 cup Arugula
Steakhouse Aioli:
½ cup Mayonnaise
1 tsp A-1 Sauce
1 Tbsp Dijon Mustard
½ tsp Fresh Rosemary, finely chopped
Pickled Red Onions:
1ea Red Onion, sliced thin
½ cup White Wine Vinegar
1 Tbsp Sugar
1 tsp Salt
1 cup Hot Water
INSTRUCTIONS:
Make the pickled red onions by packing them in a small jar, dissolve the sugar and salt in the hot water, stir in the vinegar and pour over the onions. Let marinate in the refrigerator for 1hr (for best taste make the night before).
In a small bowl combine the ingredients for the steakhouse aioli, set aside.
Spread softened butter on one side of each slice of bread. Form sandwiches (buttered side out) by slathering the inside slices with the prepared steakhouse aioli, then layer with Pineland Farms Smoked Cheddar Cheese, roast beef, pickled red onions and arugula.
Heat a large nonstick skillet over low heat. Cook the sandwiches until each side is golden brown and the cheese is melted, 4 to 5 minutes per side.
Enjoy!
Recipe by our chef, Emily McQuarrie!
PINELAND FARMS DAIRY COMPANY
MAINE COWS. MAINE MILK. MAINE CHEESE.
Find us in the Specialty Cheese Section!