POTATO PANCAKE WITH BABY SWISS AND LEEKS
With just a few simple ingredients you can make this jazzed-up version of shredded potatoes for a fantastic side dish. Our buttery Baby Swiss melts into a crispy potato marvelously, but you could also try our Pepper Jack for a spicy variation.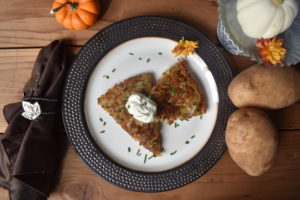 Yields: 6 Servings 
 INGREDIENTS:  
 3 Tbsp Extra Virgin Olive Oil, divided
1 Tbsp Unsalted Butter
2 Large leeks, light green and white parts washed, halved lengthwise and sliced (about 1 ½ cups)
1 ½ lbs. Potatoes (about 3 large)
5oz. Pineland Farms Baby Swiss Cheese, shredded (about 1 cup)
TT Salt & Pepper
*note: TT means "To Taste"
INSTRUCTIONS:  
Scrub potatoes well, but don't peel.  
Shred on a box grater.  
Place the shredded potatoes on a clean dishtowel (or several layers of paper towels) and press to squeeze out as much moisture as possible. Set aside. 
Working in a non-stick 12" skillet, heat 2 tablespoons olive oil over medium heat.  
Add the leeks and a pinch of salt: Sauté about 5 minutes, stirring often, or until they just start to lightly brown. Transfer to a plate and set aside. 
Unwrap potatoes and season with salt and pepper.  
Melt 1 tablespoon of butter and the last tablespoon of olive oil in the skillet over medium heat.  
Add half of the potato in an even layer. Add the leeks and cheese in even layers. Add remaining potatoes, pressing all together in the pan.  
Cook pancake 8-10 minutes, lifting edges with a spatula to peek underneath; when it has nicely browned, flip with a large spatula and continue to cook on the other side. 
Enjoy!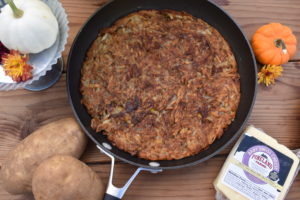 Recipe by our chef, Emily McQuarrie!   
Pineland Farms Dairy Company 
Maine Cows. Maine Milk. Maine Cheese. ⠀⠀ 
Find us in the Specialty Cheese Section!