Pineland Farms Signature Mac
Forget the box mac and cheese! This quick and easy homemade mac and cheese recipe will leave you with a creamy and cheesy mac and cheese that the whole family will love.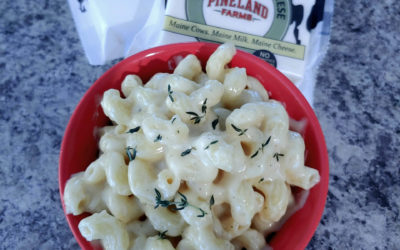 Ingredients:
12 oz Cavatappi Pasta, Cooked Al dente
½ cup Butter, salted
2 Tbsp Flour
½ cup Heavy Cream
1 cup Milk
7 oz Pineland Farms Sharp Cheddar, cubed
4 oz Pineland Farms Smoked Cheddar, cubed
½ tsp Paprika
½ tsp Granulated Garlic
½ tsp Sea Salt
½ tsp Black pepper, cracked
1 Tbsp Thyme, Fresh
Instructions:
1. Cook cavatappi pasta al dente, strain, set aside.
2. In a medium saucepan, melt butter and whisk in flour, slowly add milk and cream whisking till thick and smooth. Add Pineland Farms Sharp Cheddar and Pineland Farms Smoked Cheddar stirring constantly until cheese mixture melted and smooth.
3. Stir in paprika, garlic, salt and pepper, and fold in pasta.
4. Garnish with fresh thyme.
Recipe Created by Emily McQuarrie