Monterey Jack BBQ Chicken
This BBQ Chicken is moist and full of flavor. Topped with crispy bacon, creamy Monterey Jack Cheese, and veggies. This dish is perfect for the whole family.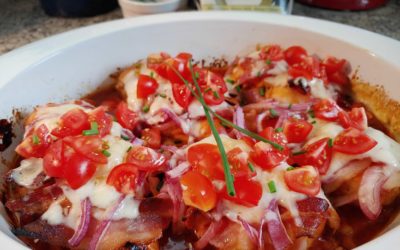 Yields 4 servings
Ingredients
3-4 chicken breasts
2 tbsp. flour
2 tbsp. olive oil
3-4 tbsp. BBQ sauce
8 bacon strips, slightly rendered
1 small red onion, thinly sliced
1 cup cherry tomatoes, quartered
¼ cup chives, sliced on a bias
7 oz. Pineland Farms Monterey Jack Cheese, shredded
TT salt & pepper
Instructions
Preheat oven to 350°F.
Season chicken with desired amounts of salt and pepper on both sides. Dredge in flour. In a hot pan sear the chicken on both sides till golden brown. Do not fully cook chicken.
Place the seared chicken in a greased 9″ x 13″ baking dish and brush with barbecue sauce. Top each breast with 2 strips of partially cooked bacon slices then layer with sliced onions. Bake to an internal temperature of 165°F. Approximately 20-25 minutes. Remove from oven and top with Pineland Farms Monterey Jack Cheese. Return to oven just long enough to melt the cheese.
Top with cool cherry tomatoes and chives just before serving.
Recipe by Emily McQuarrie