MONTE CRISTO SANDWICH
Thanksgiving leftovers are the best! Past Thanksgiving, or no leftovers, this is still easy to put together.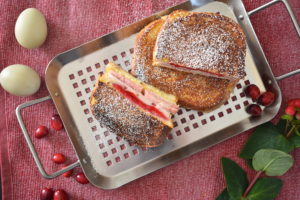 Yields: 2 Servings   
INGREDIENTS:  
4 slices Hearty Bread, sliced ½ inch thick
2 Tbsp Butter, softened
1 Tbsp Dijon Mustard
¼ cup Cranberry Sauce
4 oz Pineland Farms Swiss Cheese, shredded
4 oz Ham, carved
4 oz Turkey, carved
2 ea Eggs
2 Tbsp Milk
Pinch Salt
Pinch Cinnamon
1 tsp Confectioner's Sugar
Vegetable Oil as needed 
 INSTRUCTIONS:  
Butter one side of the 4 slices of bread and lay them buttered side down on a piece of parchment paper.  
Spread Dijon mustard over 2 slices and generously slather the cranberry sauce over the other 2 slices.  
Assemble each sandwich in the following order: 1 ounce Pineland Farms shredded Swiss cheese over the Dijon, followed by 2 slices of ham, 2 slices of turkey, 1 once Pineland Farms shredded Swiss cheese, bread side down. Trim crusts if desired. 
Wrap the sandwiches with plastic wrap and weigh them down with a grill press or skillet for 3 – 5 minutes.  
In a medium bowl, whisk together eggs, milk, salt, and cinnamon.  
Dip the sandwich into the egg mixture, just until some liquid is absorbed into the bread, but it is not falling apart.  
Drizzle vegetable oil in a cast iron skillet. Cook 3-4 minutes per side, until the sandwich is golden, and the cheese is melted.  
Transfer to paper towels to drain.  
Heat the remaining Jelly as a dipper. 
Sprinkle the sandwiches with confectioner's sugar, slice in half for service.
Enjoy!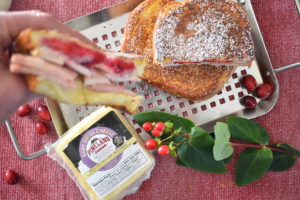 Recipe by our chef, Emily McQuarrie!
PINELAND FARMS DAIRY COMPANY
MAINE COWS. MAINE MILK. MAINE CHEESE.
Find us in the Specialty Cheese Section!