MINI TRI-FLAVORED QUICHES
Why have one flavor of quiche when you can have three?! This Tri-Flavored Quiche recipe allows you to indulge in different flavors of cheesy quiche while giving you a delicious meal. Do you want to know the best part? You don't have to stop at three! Go ahead and try using bacon and Pineland Farms Cheddar or broccoli and Pineland Farms Reserve. Better yet, use a three-cheese blend by combining Pineland Farms Pepper Jack, Sharp Cheddar, and Colby Jack to achieve ultimate cheesy goodness. The possibilities truly are endless!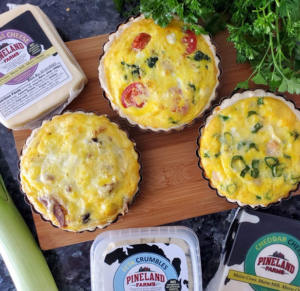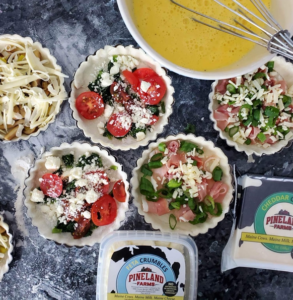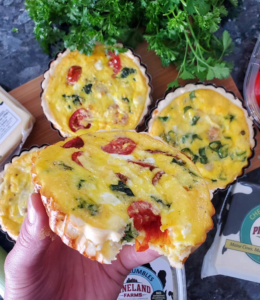 Yields: 6- 4" tarts
INGREDIENTS:
Crust and Custard:
1 pkg Pie Crust, frozen, thawed
8ea Eggs
½ cup Heavy Cream
TT Salt and Pepper
1 Tbsp Corn Starch
For Fillings: (Each makes 2- 4inch tarts)
WILD MUSHROOM, LEEKS, AND SWISS

1ea Leek, whites only
3oz Wild mushroom mixture
1 tsp Olive Oil
2 Tbsp Pineland Farms Swiss Cheese, shredded

SPINACH, TOMATOES AND FETA

4 Tbsp Frozen spinach, thawed
2 Tbsp Grape Tomatoes, quartered
2 oz Pineland Farms Feta Cheese, crumbled

HAM AND CHEDDDAR

2 slices Prosciutto ham, shredded or torn
1 bn Scallions, sliced, green part only
2oz Pineland Farms Cheddar Cheese, shredded
INSTRUCTIONS:
Roll out dough on a floured surface, to ¼" thickness and cut out a circle about 1 inch larger than the tin you will use.
Fit the dough into 4-inch mini tart tins with removable bottom, pressing down, and continuing to fit the dough into the tins, then trim the edge with a sharp knife. Repeat the process until all the tins are filled.
Place the tins on a baking sheet and place in the freezer for 15 minutes.
Preheat oven to 350F.
Meanwhile, in a medium bowl beat the eggs and cream, season with salt and pepper.
Slice the leeks, white parts only. Sauté with olive oil, add the wild mushrooms, cook until fragrant, then allow to cool.
Prepare all the filling having everything measured out and ready to go.
Remove the Quiche tins from the freezer and sprinkle a little cornstarch in the bottom of each pastry shell and evenly distribute.
For each pastry add Pineland Farms Cheeses first to cover the bottom.
Add the custard filling with a turkey baster. Only fill ¾ of the way. Top each with the various filing.
Place in the preheated oven and bake for 25 minutes.
Allow to cool slightly. Remove from the tins and serve immediately.
Enjoy!
Recipe by our chef, Emily McQuarrie!
PINELAND FARMS DAIRY COMPANY
MAINE COWS. MAINE MILK. MAINE CHEESE.
Find us in the Specialty Cheese Section!