Mediterranean Baked Feta
This Mediterranean Baked Feta with a Seasoned Olive Medley and Freshly Picked Rosemary is a perfect appetizer that everyone will love.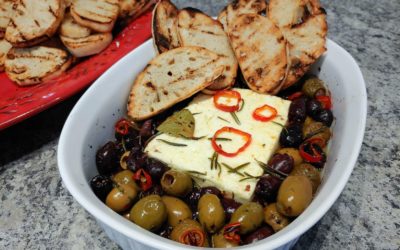 Ingredients:
7oz Pineland Farms Feta Bar
¼ Cup Olive Oli, Extra Virgin
1 Orange, Zest
1 Lemon, Zest & Juice
2 Cups Seasoned Olive Medley, Hannaford's Taste of Inspirations
2 Tbsp Rosemary, petals
1 Tbsp Red Chili Pepper, sliced
1 Artisan Roasted Garlic Baguette, sliced, grilled
Instructions
1. In a lightly greased 1 1/2 qt baking dish place Pineland Farms Feta in the middle of the dish. Add the zest of an orange, Lemon, and the freshly squeezed lemon juice.
2. Add the olive medley and sliced red chili peppers, top with freshly picked rosemary.
3. Bake at 350F for 20-25 minutes
4. *Optional* broil for a few additional minutes
5. Slice and brush roasted garlic baguettes with olive oil, and grill to perfection.
6. Serve immediately
Recipe Created by Emily McQuarrie