Marinated Feta Bar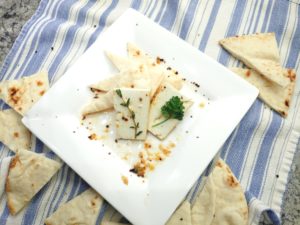 8 oz Pineland Farms Feta Bar
1. Transfer the feta bar into a resealable container.
2. Top the feta with garlic, lemon juice and zest. Add the parsley, thyme, red pepper flakes and olive oil. Allow the cheese to marinate 24-48 hrs. Flip the feta several times while marinating.
3. Slice the bar into thin slices. Place the cheese on a serving plate and drizzle remaining oil and herbs on top tp taste. Serve with grilled or toasted Naan bread wedges.