MAKE AHEAD BREAKFAST BURRITOS
We're back to school and maybe your mornings are a little rushed. You can make these breakfast burritos on the weekend or at night to save time in the morning and everyone can have a satisfying healthy breakfast!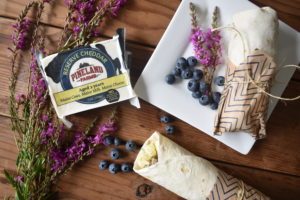 Yields: 6 – 8 Servings
  INGREDIENTS: 
4 ea Eggs
¼ cup whole Milk
TT Salt & Pepper 
2 Tbsp Salted Butter
1 Pkg Flour Tortillas
12 oz Sweet Pork Sausage, casings removed
1 Tbsp Olive Oil
7oz Pineland Farms Reserve Cheddar, shredded
*note: TT means "To Taste"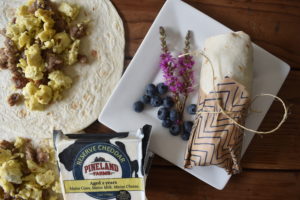 INSTRUCTIONS:  
In a medium bowl, crack the eggs, add the milk, whisk well 
Season with salt and pepper. 
In a heavy bottomed skillet over low heat, melt the butter and cook the eggs while stirring frequently. Set aside.  
Wipe the skillet clean, return to heat, drizzle with olive oil, add the pork stirring until cooked throughout. 
Arrange the tortillas on your work surface, add a ½ cup of scrambled eggs to the bottom half of the burrito, top with ¼ cup sweet sausage, sprinkle with about ¼ cup of Pineland Farms Reserve Cheddar Cheese.  
Slightly fold in the sides and begin to roll from bottom to top, creating a sealed cylinder.  
Wrap in deli paper and place in a Ziplock bag.  
Store in the refrigerator for up to 5 days
Enjoy!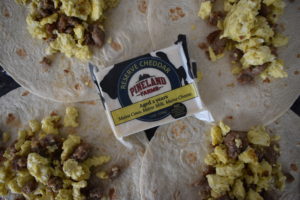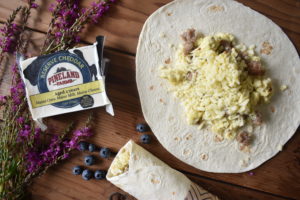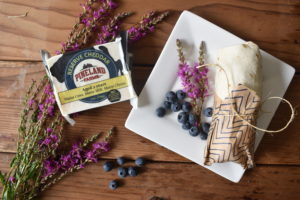 Recipe by our chef, Emily McQuarrie!   
Pineland Farms Dairy Company 
Maine Cows. Maine Milk. Maine Cheese. ⠀⠀ 
Find us in the Specialty Cheese Section!