Lobster Mac & Cheese
Lobster!  A Maine staple, especially for summer gatherings!  But what to do with that extra lobster from your boil?  We know just the thing!  Combine it with some pasta and our Pineland Farms Dairy cheese, and you've got yourself another delicious, comforting meal!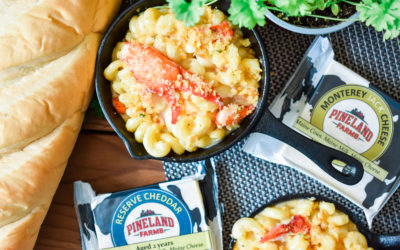 Yields: 8 servings
INGREDIENTS:
16oz Lobster Meat, cooked
2 cups Shaped Pasta, cooked al dente
4 Tbsp Butter, divided
2 Tbsp All-Purpose Flour
1 ½ cup Whole Milk
2 Tbsp Lobster Base (we used Better Than Bouillon)
7oz Pineland Farms Monterey Jack Cheese, shredded
4 oz Pineland Farms 2yr Reserve Cheddar Cheese, shredded
TT Salt & Pepper
¼ cup Ritz Cracker Crumbs
1 Tbsp Parsley, chopped
Note:  TT = "To Taste"
INSTRUCTIONS:
Preparation:
Preheat the oven to 350F.
In a medium saucepan, melt 2 tablespoons butter.  Add the flour and cook over low heat, stirring constantly.
Slowly add the milk, continuing to whisk until mixture has thickened and begins to boil.
Remove from heat and gradually add the Pineland Farms Cheeses and lobster base while stirring to melt.
Season with salt and pepper.
Fold the cooked pasta and lobster meat into the sauce.
Baking:
Lightly grease a 2 quart baking dish with cooking spray.
Pour the pasta and cheese mixture into the dish.
In a small bowl, melt the remaining butter, toss in the Ritz cracker crumbs and parsley, and mix to combine evenly.
Sprinkle the buttered crumbs evenly over the pasta.
Bake at 350F uncovered for 15 – 20 minutes.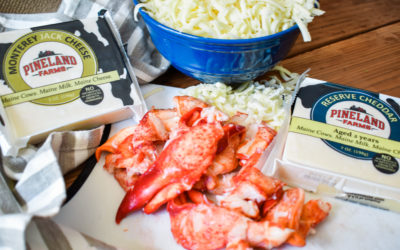 Recipe by our very own chef, Emily McQuarrie!
Pineland Farms Dairy Company
Maine Cows.
Maine Milk.
Maine Cheese.
⠀⠀⠀⠀⠀⠀⠀⠀⠀
Find us in the Specialty Cheese Section!