Holiday Cheese Ball Appetizer
Yields 8-10 servings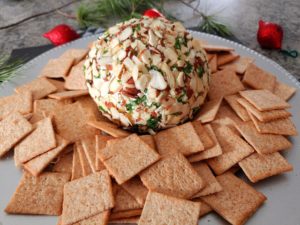 Ingredients
16 oz. cream cheese, softened
7 oz. Pineland Farms Monterey Jack or Colby Jack Cheese, shredded
½ tsp. dry garlic salt
½ tsp. onion power
2 tbsp. Worcestershire sauce
½ cup almond slices
3 tbsp. fresh parsley, chopped, divided
Instructions
In a medium bowl, combine cream cheese, Pineland Farms Monterey Jack or Colby Jack, Worcestershire sauce, garlic salt, onion power, and 1 tbsp. chopped parsley. Mix until ingredients are evenly distributed.
Form the mixture into a ball and wrap in plastic film. Chill until firm.
Combine the sliced almonds and remaining parsley and roll the chilled cheese ball in the nut mixture, pressing firmly until surface is evenly coated. Let sit at room temperature a few minutes before serving with crackers and pretzels.
Recipe by Emily McQuarrie