HAM AND SWISS CROISSANTS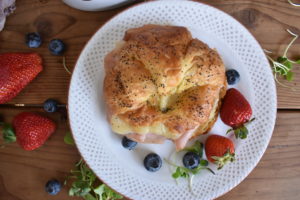 Do you want to make your lunch as fueling and delicious as possible? Try out this Ham and Swiss Croissant Sandwich recipe and never look back. The buttery croissants paired with the creamy Swiss, savory ham, and tangy Dijon mayo will be a hit every time. You could even throw an egg in it and make it breakfast. Everyone from your friends to your kids will love this quick and easy dish, so give it a try!
Yields: 4 Servings
INGREDIENTS:
4ea Croissant Rolls
12 slices Deli Ham
4oz Pineland Farms Baby Swiss Cheese, sliced
1 Tbsp Butter, melted
2 tsp Poppy Seeds
Dijon Mayonnaise:
½ cup Mayonnaise
1 Tbsp Dijon Mustard
½ tsp A-1 Sauce
INSTRUCTIONS:
In a small bowl combine the ingredients for the Dijon mustard, mix well, set aside.
Preheat oven to 350F.
Carefully slice the croissants, place the rolls on a parchment covered baking sheet. Slather the inside tops and bottoms with the Dijon Mayonnaise.
Fold 3 slices of ham per each croissant and layer the top with Pineland Farms Baby Swiss cheese. Place the tops on the sandwiches and brush with melted butter. Sprinkle evenly the poppy seeds.
Cover loosely with aluminum foil and bake for 10 minutes
Remove the foil and bake uncovered for another 5 minutes.
Enjoy!
Recipe by our chef, Emily McQuarrie!
PINELAND FARMS DAIRY COMPANY
MAINE COWS. MAINE MILK. MAINE CHEESE.
Find us in the Specialty Cheese Section!