Grilled Seafood and Cheese Curd Poutine
Check out this elevated take on the traditional poutine of fries, cheese curds, and gravy!
We take it to the next level, using fresh cheese curds, grilled seafood, and a delicious lemon butter sauce!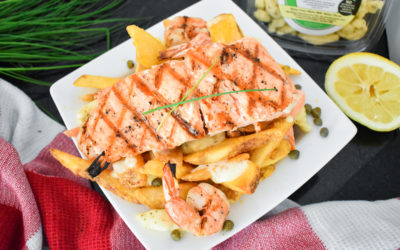 Yields: 2 servings
INGREDIENTS:
8oz Salmon Filet, skin on
8ea 21/25 count Shrimp, peeled, deveined
28oz bg. Steak Cut French Fries, Frozen
8oz Pineland Farms Garlic Dill Cheese Curds
½ cup *Lemon Butter Sauce
1 Tbsp Capers, garnish
1bn Fresh Dill or Chives, garnish
TT Salt & Pepper
*LEMON BUTTER SAUCE:
½ cup Butter
1 clove Garlic, minced
¼ cup Low sodium chicken broth
¼ cup Heavy Cream
TT Fresh lemon, juice
TT salt & pepper
Note:  TT = "To Taste"
INSTRUCTIONS:
Preheat your home fryer to 350F and your grill to 400F.
Lightly season your grill with canola oil.
Season the seafood with salt and pepper.
Place the salmon on the grill flesh side down, cook for 2 minutes, turning to create grill marks, cook for an additional 2 minutes.
Flip, so the salmon is skin side down, continue to cook until flaky.
Just before the salmon is finished, begin grilling the shrimp, flipping as need until cooked throughout.
In a small saucepan, melt the butter over medium heat. Stir in the garlic and mix until fragrant.
Pour in the chicken stock, heavy cream and add your desired amount of freshly squeezed lemon juice. Bring to a simmer, cook until the sauce thickens and coats the back of a spoon.
Fry a handful of steak cut French Fries for approximately 3-5 minutes, or until golden brown and crispy.
Place the fries on a plate lined with paper towels, removing excess grease. Sprinkle with Salt.
On a large serving dish, add a mound of hot steak fries. Top with Pineland Farms Garlic Dill Cheese Curds, grilled shrimp, and drizzle with lemon butter sauce.
Top with salmon, garnish with capers and fresh dill or chives if desired.
Enjoy!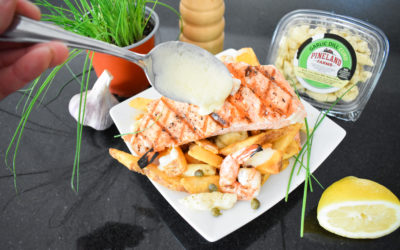 Recipe by our very own chef, Emily McQuarrie!
Pineland Farms Dairy Company
Maine Cows.
Maine Milk.
Maine Cheese.
Find us in the Specialty Cheese Section!