Grilled Prosciutto Wrapped Endive Poutine with Portabella Mushroom Gravy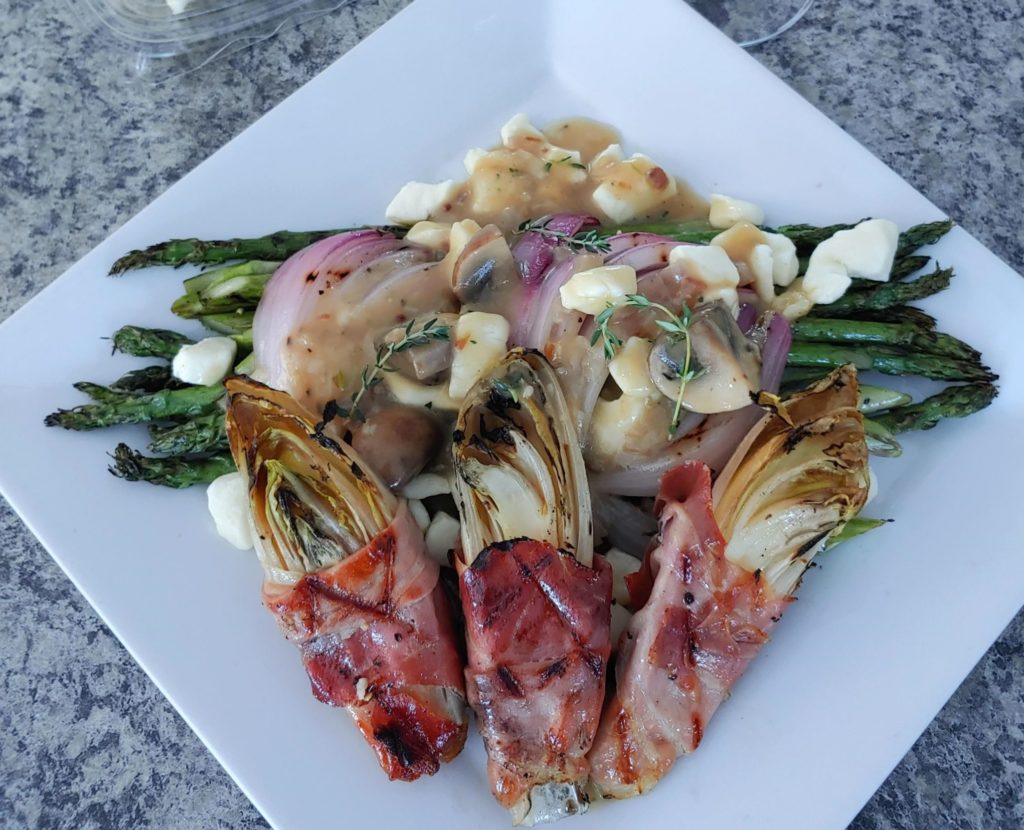 Ingredients:
1 bn Asparagus, trimmed 1" from the base
1 sm Red Onion, ½" slabs
4-5 Endives
1pkg Prosciutto, thin sliced
2 Tbsp Olive Oil
8 oz Pineland Farms Cheddar Cheese Curds
1 cup Baby Portobello Mushrooms, quartered
1 ea Shallot, minced
1 ea Garlic, minced
1 ½ cup Vegetable Broth
2 Tbsp White Wine
5 Tbsp Butter, Salted, divided
2 Tbsp Flour
1 tsp Thyme, fresh
TT Salt & Pepper
Instructions
1. Cut endives in half and wrap with Prosciutto. Coat the Asparagus, red onion and Endives with olive oil and season with salt and pepper. Place on a hot grill and cook till vegetables are slightly soft. Set aside
2. In a hot sauté pan place 2 Tbsp butter, Mushrooms, shallot and garlic and cook well. Deglaze with white wine. In the same pan set all the veggies to one side and add the remanding butter and flour creating a roux, stir well. Slowly pour in the vegetable stock whisking till smooth. Now whisk the complete onion/mushroom mixture together. Add fresh thyme and salt and pepper to taste.
3. Arrange your grilled vegetables on a serving dish. Sprinkle with Pineland Farms Cheddar Cheese Curds and top with the mushroom gravy. Garnish with fresh thyme sprigs.
4. Enjoy
Recipe Created by Emily McQuarrie