Green Bean-Tomato-Feta Salad
This refreshing Green Bean and Tomato salad with delicious Pineland Farms Dairy Farmhouse Feta Crumbles is perfect for a hot summer day. This recipe is quick, easy, and healthy!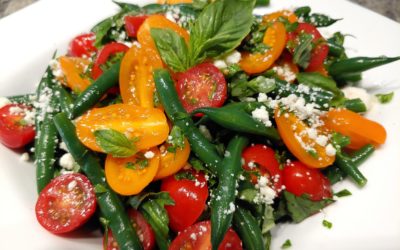 Ingredients:
1 ½ Lbs. Green beans, Blanched, pat dry
1 cup Cherry Tomatoes, halved
1 cup Yellow Grape Tomatoes, halved
1/3 cup Basil Leaves, roughly chopped
1/3 cup Parsley, roughly chopped
¼ cup Olive Oil, extra virgin
¼ cup Lemon Juice, freshly squeezed
2ea Garlic Cloves, minced
4oz Pineland Farms Crumbled Feta
Instructions
1. In a small mixing bowl whisk together olive oil, lemon juice and minced garlic. Set aside.
2. In a large serving bowl combine blanched green beans, tomatoes, basil, and parsley. Pour the lemon dressing over the build. Top with Pineland Farms Crumbled Feta and serve immediately.
Recipe Created by Emily McQuarrie