GREEK SPAGHETTI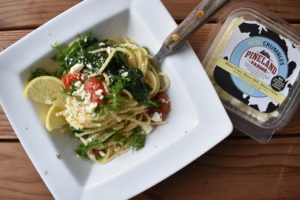 Get ready for a fun Greek twist on classic spaghetti. This dish takes good old pasta and elevates it with a homemade creamy sauce with our Pineland Farms Feta. Not only is it made delicious by being covered in cheese and garlic, but you can even sneak in a few extra veggies, and it will taste just as good. Our Greek Spaghetti makes for the perfect quick and easy dinner, and guess what else. You only need to use one pot! That means full flavor and way fewer dishes. Be sure to try this recipe out, just know that we can't promise you won't go back for seconds.
Yields: 4 Servings
INGREDIENTS: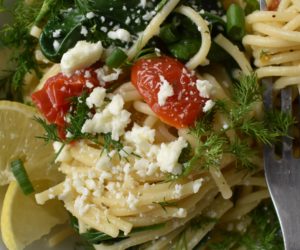 12oz Thin Spaghetti, Al dente
1 Tbsp Olive Oil
4bn Scallions, chopped, greens and whites separated
2ea Cloves Garlic, minced
3oz Cream Cheese
2 Tbsp Chicken Bouillon Base
10oz Spinach
1 cup Grape Tomatoes, halved
½ oz Dill Weed, rough chopped
2 tsp Oregano, dried
8oz Pineland Farms Feta Cheese, crumbled
1ea Lemon, wedged
INSTRUCTIONS:
Bring a large pot of water to a boil. Cook spaghetti until al dente. Reserve ½ cup of water, then drain. Set aside.
In the same pot, heat the olive oil over medium high heat. Add garlic, scallion whites, oregano, salt, and pepper.
Reduce heat, stir in cream cheese, chicken bouillon, half the dill, half the feta cheese and ½ cup water. Continue to cook until stirring and smashing Pineland Farms feta with the back of a spoon until smooth and creamy. Cook for 2 minutes.
Stir in tomatoes and spinach in batches. Cook until spinach has wilted, season with salt and pepper. Remove from heat.
Stir in spaghetti and drizzle with a bit of olive oil, a squeeze lemon juice and remaining dill
Divide pasta in bowls and top with the rest of the Pineland Farms Feta Cheese and green scallions. Serve with the remaining lemon wedges.
Enjoy!
Recipe by our chef, Emily McQuarrie!
PINELAND FARMS DAIRY COMPANY
MAINE COWS. MAINE MILK. MAINE CHEESE.
Find us in the Specialty Cheese Section!