GREEK QUESADILLAS
Have you ever had Greek food and thought to yourself, It can get any better than this! We are here to tell you that it can. This delicious vegetarian Greek quesadilla recipe with a homemade Tzatziki sauce takes familiar Greek ingredients and elevates them. The crispy outside of the grilled Nana paired with the creamy and cheesy filling is next level. Try this simple and healthy recipe next time you're craving some delicious Greek food!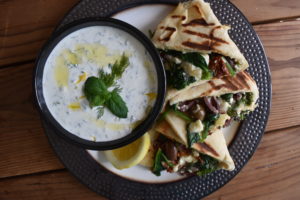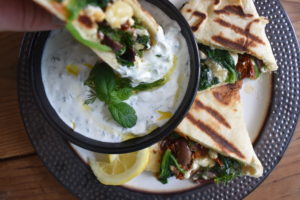 Yields: 6 – 8 servings
INGREDIENTS:
8ct 8-inch flour tortillas or Naan bread
1 -10oz Pkg Frozen Spinach, thawed, drained
½ cup Sun dried tomatoes in oil, drained, julienned
½ cup Kalamata Olives, pitted, chopped
1 cup Pineland Farms Reserve Cheese, shredded
1 cup Pineland Farms Feta, crumbled
1 – 2 Tbsp Dill, freshly chopped
Tzatziki Sauce:
1 cup Plain Greek Yogurt
¼ cup English Cucumber, finely diced
1ea Clove Garlic, minced
1 Tbsp Dill, freshly chopped
1 tsp Mint, freshly chopped
1 tsp Lemon Zest
1 Tbsp Lemon Juice, freshly squeezed
TT Salt and Pepper
2 Tbsp Olive Oil
INSTRUCTIONS:
Make the Tzatziki sauce by mixing the Greek yogurt, cucumber, garlic, dill, mint and lemon juice and lemon zest in a small bowl. Season with salt and pepper, to taste. Drizzle with olive oil. Set aside in the refrigerator for about 30 minutes.
Preheat oven to 400F. Line a sheet pans with parchment paper.
Lay a tortilla on the parchment paper. Top with spinach, sundried tomatoes, olives, and Pineland Farms Cheeses, then top with another tortillas. Repeat for the remaining tortillas.
Place the Quesadillas in the oven and bake until the cheese has melted, about 8 to 10 minutes.
Serve immediately with a dollop of tzatziki sauce, garnish with more dill if desired.
Enjoy!
Recipe by our chef, Emily McQuarrie!
PINELAND FARMS DAIRY COMPANY
MAINE COWS. MAINE MILK. MAINE CHEESE.
Find us in the Specialty Cheese Section!