GOLDEN FRIED JALAPENO POPPERS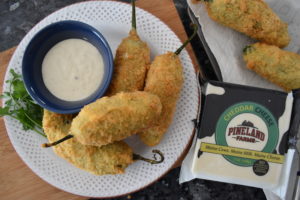 We've found the perfect comfort food with a kick of spice. These Jalapeno Poppers are a delicious appetizer that will surely win over almost anyone. The crispy fried exterior combined with the spicy jalapeno and the creamy cheese center is a combo that just can't be beaten. We would highly recommend that you bring these to your next event, everyone will be asking for the recipe.
Yields: 4-6 servings
INGREDIENTS:
2 dozen Jalapeno Peppers
8oz Cream Cheese, room temperature
1 cup Pineland Farms Cheddar Cheese, shredded.
1 cup Buttermilk
2 Eggs
1 ½ cup All-purpose Flour
1 ½ cup Panko Breadcrumbs
TT Salt & Pepper
Vegetable Oil for frying
INSTRUCTIONS:
Preheat your deep fryer or heat the oil in a Dutch oven to 350F.
Hollow each Jalapeno pepper using a paring knife.
*In a small bowl, prepare the filling by combining the cream cheese and Pineland Farms Cheddar Cheese by using a fork to mix well.
To make the batter and breading, mixing the eggs and buttermilk in a small bowl, whisking well. Then combine the flour and panko in another, season with salt and pepper.
Dip each jalapeno in the wet batter, followed by the breading. Repeat, the peppers should have a thick sturdy coating before placing them in the cooking oil.
Fry for 5-6 minutes, turning once until golden brown. Remove and place on paper towels to remove excess grease.
Serve immediately with Ranch or sour cream.
*Note: You may need to double the cream cheese filling depending on how big the jalapeños are.
Enjoy!
Recipe by our chef, Emily McQuarrie!
PINELAND FARMS DAIRY COMPANY
MAINE COWS. MAINE MILK. MAINE CHEESE.
Find us in the Specialty Cheese Section!