Fried Buffalo Cheese Curds
A spicy twist on the classic fried cheese curds.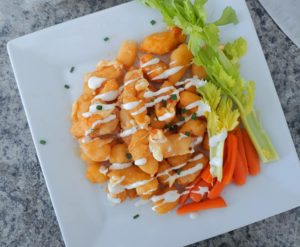 8oz Pineland Farms Buffalo Cheddar Cheese Curds
¼ cup Seasoned Flour (Add a dash of seasoning salt, pepper & granulated garlic to ¼ cup of all-purpose flour)
1. Freeze Pineland Farms Buffalo Cheddar Curds overnight.
2. Combine seasoned flour and buttermilk, whisking until smooth.
3. Place the frozen curds into the batter and coat evenly. Shake off excess batter and roll in panko crumbs. Repeat this process once more. Place the coated curds on a small sheet pan and freeze for 30 minutes.
4. Preheat a small fryer or sauce pot filled with vegetable oil to 350°F
5. Fry coated curds for approximately 2 ½ minutes or until cheese is slightly oozing.
6. Place fried curds on a plate lined with paper towel to drain excess oils.
7. Mound the fried Pineland Farms Buffalo Curds on your desired dish and drizzle with ranch dressing and garnish with carrots, celery, and chives.
Recipe Created by Emily McQuarrie