French Dip Sandwiches
Yields 6 servings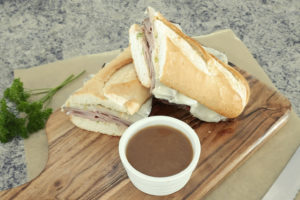 Sandwich Ingredients
2 lbs. deli roast beef, sliced thin
6 ea. rustic sub rolls
7 oz. Pineland Farms Baby Swiss Cheese, sliced thin
Spread Ingredients
1 cup sour cream
½ cup mayonnaise
¼ cup green onions, sliced thin
1 tsp. Worcestershire sauce
1 pkg. onion soup mix
TT salt & pepper
Au Jus Ingredients
2 tbsp. salted butter
2 tbsp. all-purpose flour
3 cups beef broth
1 tbsp. beef bouillon
2 tsp. sherry
*1 tbsp. rosemary, finely chopped (optional)
Instructions
Preheat oven to 350ºF.
In a small bowl, combine sour cream, mayonnaise, green onions, Worcestershire sauce, and onion soup mix. Season with salt and pepper.
In a large pan, melt the butter over medium-high heat. Stir in the flour, cooking for 1 minute. Slowly whisk in the beef broth and bouillon. Add the sherry and rosemary. Cook until slightly thickened.
Cut the sub rolls in half lengthwise and spread the sour cream and onion mixture thickly over both sides. Arrange the rolls on a sheet pan.
Add the roast beef to the hot au jus. You will have to do this in a few batches. Let sit for a few seconds and remove the beef from the pan, shaking off any excess liquid.
Arrange the roast beef on the bottom half of the sub rolls. Top with Pineland Farms Swiss Cheese.
Keep the sandwiches open-faced and place them in the oven. Cook just long enough to melt the cheese and crisp the bread.
Pour the remaining au just in a small bowl for dipping, and enjoy!
Recipe by Emily McQuarrie