Feta, Lemon, and Chive Ravioli
There's NOTHING like fresh, cheesy ravioli with homemade pasta!  We break it down for you into easy steps you can do from home!
Once you taste homemade, you'll never want to go back!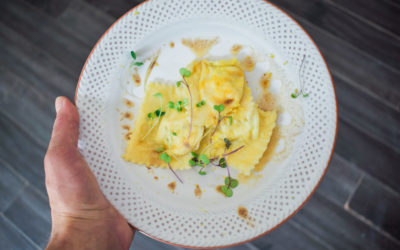 Yields: 4 servings of 6 Raviolis
INGREDIENTS:
2 cup All-Purpose Flour + dusting
6 Eggs, divided
1 Tbsp Olive Oil
8oz Pineland Farms Feta Cheese
¼ cup Ritz Cracker Crumbs
6 Tbsp Butter, divided
1 Tbsp Chives + more for garnish
1 tsp Lemon Zest + more for garnish
½ tsp Crushed Red Pepper Flakes + more for garnish
2ea Chive Flowers
Salt & Pepper to taste
INSTRUCTIONS:
Making the Dough:
In a bowl, add the flour creating a well in the center
Add 4 eggs, olive oil and a pinch of salt into the well.
With your hands or a fork, gradually incorporate the eggs by taking flour from the outside edge of the well and swirling it into the center.
Keep folding the flour until it is fully combined and has come together to form a dough.
Place the dough on a floured surface and knead for 10 minutes until smooth.
Cover with cling wrap and allow to rest at room temperature for 20 minutes.
Mixing the Filling:
In a small bowl, crumble the Pineland Farms Feta Cheese with a fork, add the chives, lemon zest, crushed red pepper and 1 egg. Season with pepper. Mix well.
Creating the Ravioli:
Take the dough and cut it into 4 pieces. Using a pasta machine or a rolling pin, roll out each piece to make a long sheet. Cut each sheet in half so you have 8 sheets in all.
On a floured surface, lay 3 sheets of pasta down and lightly brush with egg wash.
Take the fillings and place a heaping teaspoon on the sheet. You should yield 6 – 8 raviolis from each piece.  (See photo for reference)
Lay another sheet of pasta over the top and press it down creating a pocket around the filling.
Take a pasta wheel or cookie cutter and cut out each ravioli. Squeeze out the air and seal with your fingers.
Repeat with the other sheets of pasta.
Bring a pot of salted water to a boil and gently add the ravioli.
Cook for 3-5 minutes or until pasta floats to the surface
Crumb Topping:
In a frying pan, melt 2 Tablespoons of butter.  Add the ritz cracker crumbs and cook until golden. Set aside.
Wipe the pan with a paper towel, return to heat.  Add the remaining 4 tablespoons butter and cook until brown. This will be the finishing sauce drizzled on after plating the ravioli.
Plating:
On a small plate, add a few pieces of ravioli, drizzle with brown butter, sprinkle with buttered ritz crumbs.
Garnish with chives, lemon zest and crushed red pepper.
Enjoy!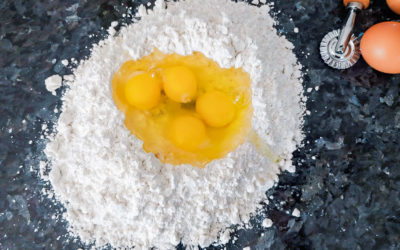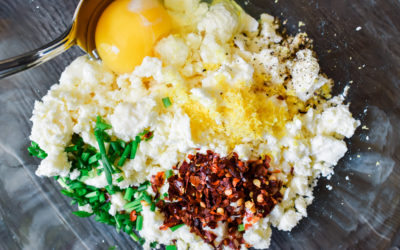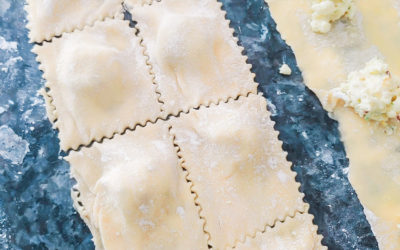 Recipe by our very own chef, Emily McQuarrie!
Pineland Farms Dairy Company
Maine Cows.
Maine Milk.
Maine Cheese. ⠀⠀
Find us in the Specialty Cheese Section!