Crispy Beer Battered Fish Sandwiches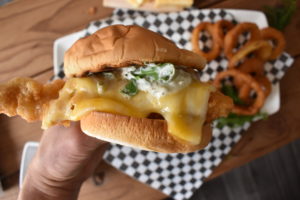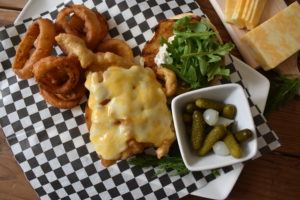 This delicious and crispy fried haddock sandwich will taste better than any restaurant or seafood shack. The homemade creamy and flavorful Dill Sauce compliments the rich fried fillet and our delicious Pineland Farms Colby Jack Cheese perfectly. Pair it with a side of fries, onion rings, or a salad, and you've got yourself the perfect lunch on a hot summer day. You can always jazz up this amazing sandwich by adding lettuce, tomatoes, and whatever other toppings sound good!
Yields: 4 Servings
INGREDIENTS:
4- 8oz Haddock filets
2 cups *Fish Fry Batter
1-12oz can Pale Ale
TT Salt & Pepper
7oz Pineland Farms Colby Jack Cheese, sliced
4ea Hamburger Buns
Dill Sauce:
½ cup Mayonnaise
3 Tbsp Dill Pickles, finely chopped
2 Tbsp Red Onions, finely chopped
1 Tbsp Capers, finely chopped
1 tsp Dill Weed, freshly chopped
TT Salt & Pepper
INSTRUCTIONS:
Preheat fryer to 365F.
In a small bowl combine the ingredients to make the dilly sauce. Set aside.
In a medium bowl mix together 1-1/4 cup of fish fry batter and a 12oz can of pale ale. Whisk until smooth. Dip the fish in the remaining dry batter then transfer in the beer batter. Quickly but carefully place the wet battered fish in the fryer with the basket already submerged in oil. Cook for 3 – 4 minutes or until golden brown. Remove from fish filets the grease and place on a lined sheet pan. Top with Pineland Farms Colby Jack cheese slices.
Place the bottom half of each roll onto a plate, top with lettuce, add the cheesy fish burger and finish with dilly sauce before topping with the bun
Enjoy!
Recipe by our chef, Emily McQuarrie!
PINELAND FARMS DAIRY COMPANY
MAINE COWS. MAINE MILK. MAINE CHEESE.
Find us in the Specialty Cheese Section!