CREAMY PESTO MACARONI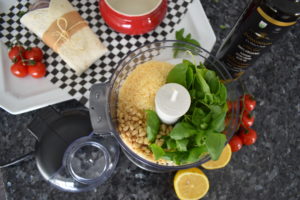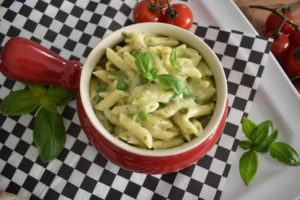 If you are a Pesto lover, we recommend you look no further. Up your plain Mac and Cheese Game with this Creamy Pesto Macaroni Recipe. This cheesy and savory dish will elevate any pasta dinner night with just a few extra steps. Pesto is surprisingly easy to make, and if you've never had it fresh before, we highly recommend it. Just whip up the pesto in a food processor while your pasta is boiling, quickly mix the ingredients for the creamy cheese sauce, and you have your new favorite dish right in front of you.
Yields: 6 servings
INGREDIENTS:
12oz Elbow Macaroni Pasta (or preferred pasta), Al Dente
4 Tbsp Butter
¼ cup All- purpose Flour
2 cups whole Milk
1 cup Pineland Farms Sharp Cheddar, shredded
1 cup Pineland Farms Baby Swiss Cheese, shredded
TT Salt & Pepper
1 cup Frozen Peas, thawed
1 tsp Red Pepper Flakes
Pesto:
1 cup Fresh Basil Leaves
½ cup Parmesan Cheese
1 Clove Garlic, crushed
1 Tbsp Lemon Juice, freshly squeezed
¼ cup Pine Nuts
¼ cup Olive Oil
INSTRUCTIONS:
Bring a large pot of salted water to a boil. Add the macaroni and cook until just al dente. Drain and set aside.
While the pasta is cooking, add all the ingredients to make the pesto in a food processor. Process until smooth, then set aside.
In a large pot, melt the butter over medium heat. Reduce heat to low and whisk in flour creating a roux. Slowly pour in the milk while whisking until smooth.
Increase heat to medium continuing to whisk until thick and bubbly. Stir in Pineland Farms cheeses stirring until melted and smooth.
Add the pasta, stirring to combine and cook until warmed. Season to taste with salt and pepper. Stir in peas, the fresh pesto and a pinch of red pepper flakes.
Enjoy!
Recipe by our chef, Emily McQuarrie!
PINELAND FARMS DAIRY COMPANY
MAINE COWS. MAINE MILK. MAINE CHEESE.
Find us in the Specialty Cheese Section!