COUNTRY FAIR ACCORDION FRIES
Fair season is coming to an end, but you can make your own Country Fair Accordion Fries using Maine potatoes and instead of a tomato sauce, try this cheese sauce to WOW your family or guests!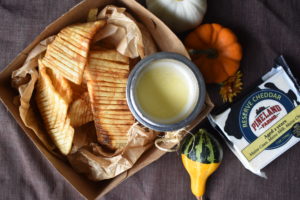 Yields: 6 – 8 Servings   
INGREDIENTS: 
2-3 Large Russet Potatoes, peeled
TT Salt & Pepper 
CHEESE SAUCE: 
7oz Pineland Farms Reserve Cheddar Cheese, shredded
¼ cup Sour Cream
¼ cup Light Ale
1 tsp Salted Butter
1 tsp All-purpose Flour
TT Salt & Pepper
*note: TT means "To Taste"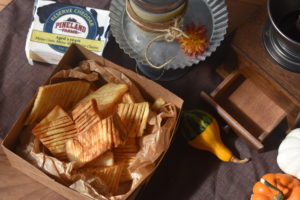 INSTRUCTIONS:  
Peel and slice each potato horizontally ¼" thickness, discarding end slices. 
Cut each slab horizontally at 5mm intervals taking care not to cut all the way through the potato. Note: you can use 2 wooden skewers laid on either side of the slab to help guide the process and stop the knife from cutting through the potato. 
Flip the slab and repeat at an angle.  
Place each finished slab in ice water for about 15 minutes. This will aid in the fanning process. 
Once done, dry each slab with paper towel. Skewer each piece, fanning it along the stick. 
Preheat your fryer to 350F. 
Deep fry 3- 4 pieces at a time, frying about 8 minutes or until golden brown and tender. 
Place the finished potatoes on a sheet pan lined with paper towels to remove excess grease. 
Immediately season with salt and pepper. 
CHEESE SAUCE: 
While the accordion fries are cooking. Melt the butter in a small saucepan over medium low heat, stirring in the flour to create a roux. Cook for a few seconds. 
Whisk in ale, and sour cream. Slowly stir in Pineland Farms Reserve Cheddar Cheese a little at a time. 
Season with salt and pepper. Transfer to a small bowl or jar serving immediately.
Enjoy!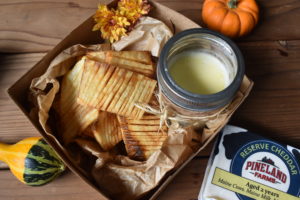 Recipe by our chef, Emily McQuarrie!   
Pineland Farms Dairy Company 
Maine Cows. Maine Milk. Maine Cheese. ⠀⠀ 
Find us in the Specialty Cheese Section!