Chicken Stuffed Poblano Peppers
This spicy take on stuffed peppers will soon be a family favorite!
Not into the heat?  Sub out the poblanos with green peppers!
The key ingredient: our creamy with a hint of spice Pepper Jack Cheese!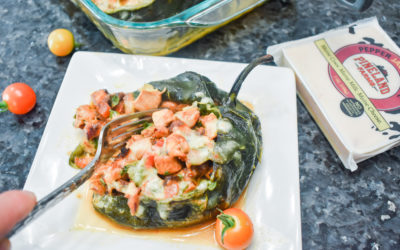 Yields: 6 servings
INGREDIENTS:
2-3 Chicken Breasts, cubed
6-8 Poblano Peppers, large (sub green peppers if spicy isn't your thing!)
¼ cup Cilantro, fresh, chopped
1 Red Bell Pepper, diced
½ cup Button Mushrooms, diced
½ cup Tomato, diced
1-11oz can Enchilada Sauce, green (divided)
1 tsp Taco Seasoning
2 Tbsp Olive Oil
7oz Pineland Farms Pepper Jack Cheese, shredded (divided)
INSTRUCTIONS:
Preheat grill to 350F or above. Place the poblano peppers on the grill, turning and cooking until Blistered. Remove from heat and cool.
Once cooled, the skin will appear very loose and papery. Peel the peppers and then remove the seeds by placing a slit along the center of one side of each pepper.
In a sauté pan, cook the chicken in olive oil.
Add the red peppers and mushrooms and cook until tender. Drain and cool this chicken filling mixture.
In a mixing bowl, combine the cooked chicken mixture with the cilantro, tomato, taco seasoning, ½ of the green enchilada sauce, and ½ of Pineland Farms Pepper Jack Cheese.
Stir together to make your filling.
Spoon the filling into each pepper and place in a greased 9″ x 13″ baking dish.
Pour the remaining green enchilada sauce over the top and evenly sprinkle the Pineland Farms Pepper Jack Cheese over the peppers.
Bake for 20-25 minutes or until cheese is fully melted and slightly browned.
Enjoy!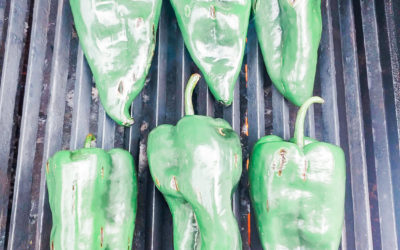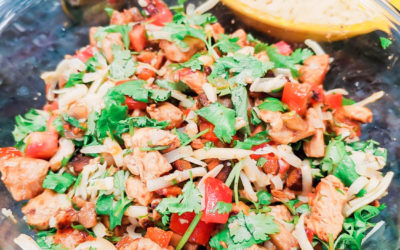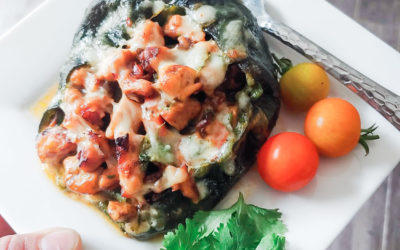 Recipe by our very own chef, Emily McQuarrie!
Pineland Farms Dairy Company
Maine Cows.
Maine Milk.
Maine Cheese.
⠀⠀⠀⠀⠀⠀⠀⠀⠀
Find us in the Specialty Cheese Section!