Chicken Spinoccoli
Need an extra helping of your greens today? Try this recipe made with chicken, broccoli, baby spinach, and creamy Pineland Farms Colby Jack Cheese. Yum!
Yields 4 servings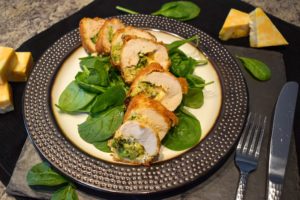 Ingredients
4 ea. chicken breasts
TT salt and pepper
2 tbsp. salted butter
1/4 cup onions, diced
2 ea. garlic cloves, minced
2 cups Broccoli Florets, roughly chopped
4 oz. cream cheese, softened
7 oz. Pineland Farms Colby Jack Cheese, shredded
8 oz. baby spinach, fresh
½ cup all-purpose flour
2 ea. eggs, beaten
1 ¼ cup breadcrumbs
¾ cup vegetable oil
Instructions
Pound each chicken breast to an even thickness. Season with salt and pepper on both sides.
Prepare the stuffing: Heat the butter in a skillet on medium heat until melted. Add the onions, cook for about 4 minutes, add the garlic, and continue cooking for a few seconds before adding the broccoli. Season with salt and pepper. Continue to cook until the broccoli is slightly softened, but still crunchy. Set aside to cool.
Prepare the cheese filling by mixing the cream cheese and Pineland Farms Colby Jack Cheese.
Spread ¼ of the cheese filling on one of the flatten chicken breasts. Spreading it evenly, leaving a clean cheese free border. Layer the fresh spinach over the cheese mixture. Then add a ¼ of the broccoli stuffing. Then roll the chicken breast by tucking in the sides into the center of the rolled chicken. Repeat with the remaining chicken. Roll the chicken up tightly into aluminum foil, creating a cylinder package. Refrigerate for at least an hour.
Preheat oven to 400ºF.
Prep the breading station placing the flour and breadcrumbs into separate plates. Whisk the eggs and 1 tablespoon of cold water in a shallow bowl. Dredge the chicken in flour, then in the egg wash, continue by rolling the chicken into the breadcrumbs.
Heat the ¾ cup of vegetable oil in a skillet over medium-high heat. Add the chicken and cook for 1-2 minutes rolling the chicken on all sides until the chicken is golden brown.
Place the chicken in a baking dish and finish off in the oven. Cook to an internal temperature of 165ºF. Let the chicken rest for 3-5 minutes before slicing to serve.
Recipe by Emily McQuarrie