CHICKEN CORDON BLEU LASAGNA
Our Chicken Cordon Bleu Lasagna is a twist on the classic French dish and comfort food at its best. And with the addition of bacon, well, do we need to say more?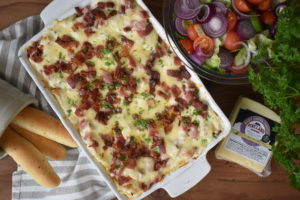 Yields: 6-8 Servings 
INGREDIENTS:  
9ea Lasagna Noodles, Al dente
3 cups Chicken, Cooked
1 ½ cups Ham, cooked and diced
1 ½ cups Bacon, cooked and diced
12oz Pineland Farms Baby Swiss Cheese, shredded
½ cup Butter, Salted
¼ cup All-purpose Flour
½ tsp Granulated Garlic
¼ tsp White Pepper
1 tsp Sea Salt
8oz Cream Cheese
4 cups Whole Milk
2 Tbsp Parsley, freshly chopped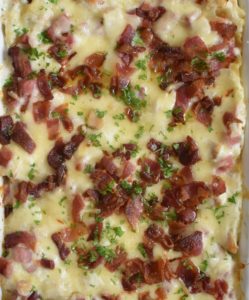 INSTRUCTIONS:  
In a medium saucepan melt the butter and stir in flour, cook for 1 minute.  
Slowly pour in the milk whisking until smooth.  
Add the granulated garlic, white pepper, sea salt, and cream cheese continuing to whisk till smooth. 
Preheat oven to 350F 
Grease a 9 X 13 baking dish and begin assembly. 
Place 3 Lasagna noodles on the bottom of the pan. Layer 1/3rd of the chicken evenly over the noodles followed by 1/3rd of the ham. Evenly pour 1/3rd of the sauce over the ham. Sprinkle with 1/3rd of the bacon and 1/3rd of Pineland Farms Baby Swiss Cheese.  
Repeat layering noodles, chicken, ham, sauce, bacon and cheese 2 more times. 
Bake for 30 – 40 minutes. 
Let stand at room temperature for 5 minutes and garnish with freshly chopped parsley.
Enjoy!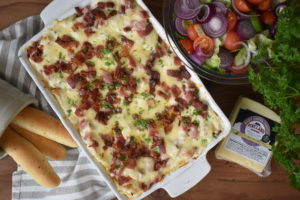 Recipe by our chef, Emily McQuarrie!
PINELAND FARMS DAIRY COMPANY
MAINE COWS. MAINE MILK. MAINE CHEESE.
Find us in the Specialty Cheese Section!