CHICKEN BROCCOLI ALFREDO PIZZA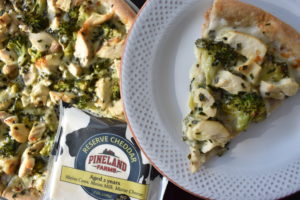 Get ready for National Pizza Day on Feb 9th, with our savory Chicken Broccoli Alfredo Pizza. We all know that alfredo, chicken, and broccoli are a tale as old as time, so why not throw them on a pizza? When you combine a classic crust with our Pineland Farms cheese and the delicious toppings, can anything ever go wrong? This recipe certainly won't disappoint all of the pizza lovers out there who don't mind a fun twist on a classic dish.
Yields: 3-4 Servings
INGREDIENTS:
1-16oz. The Good Crust – 100% Maine Grains Pizza Dough
 ½ cup Alfredo Sauce
1 cup Pineland Farms Reserve Cheddar Cheese, shredded
1 cup cups Broccoli Florets, blanched
1 cup Cooked Chicken, sliced or shredded
2 tsp Oregano, fresh or dried
INSTRUCTIONS:
Preheat oven to 450F.
Stretch "The Good Crust" to your desired size, place dough on a pizza stone. Coat your hands with a little olive oil if it seems a little sticky.
Spread the alfredo sauce over the crust, leaving a ½ inch from the edges without sauce.
Evenly distribute the Pineland Farms Reserve Cheddar Cheese, broccoli, and cooked chicken. Sprinkle with oregano.
Bake for 12 – 15 minutes.
Remove the pizza from the oven and slice for service.
Enjoy!
Recipe by our chef, Emily McQuarrie!
PINELAND FARMS DAIRY COMPANY
MAINE COWS. MAINE MILK. MAINE CHEESE.
Find us in the Specialty Cheese Section!